'Morris From America' Trailer & Poster: Craig Robinson Raises A Teen With Big Dreams In Germany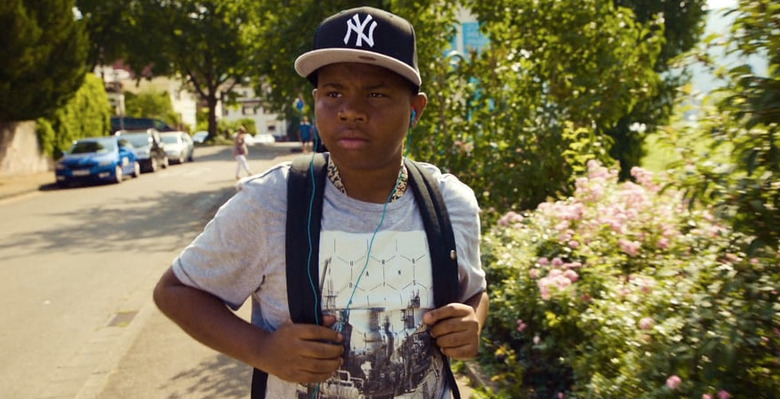 Year after year, the Sundance Film Festival is chock full of coming-of-age stories. Many are derivative and familiar, but there are always a few that know exactly how to pull at your heartstrings or bring unique enough characters that the movie still feels refreshing. This year, one of those movies was Morris from America, featuring a breakout performance from teenage actor Markees Christmas and an outstanding turn from Craig Robinson who does much more than provide comic relief.
Watch the first Morris from America trailer after the jump.
What's unique about this coming-of-age tale is that it finds Markees Christmas as a young teenage boy named Morris living in Germany with his father, where he can't seem to find his place, especially as an aspiring hip hop artist. Of course, a girl comes into the equation shaking things up a little, and she just might be the catalyst for this young man to truly show everyone who he is.
Our own Peter Sciretta caught the film at Sundance back in January and went out of his way to praise Markees Christmas' performance in his review:
Lead actor Markees Christmas is the real discovery of this film. The young star delivers a charming and vulnerable performance which is sure to put this kid on the top of casting lists for years to come.
Variety's Justin Chang enjoyed the film as well, saying:
Set to the pulsing hip-hop music that fuels Morris' dreams and offers him refuge in a place that can seem friendly and threatening by turns, this coming-of-age dramedy explores how the challenges of being young, black and misunderstood can be compounded in a foreign environment, but goes about it in a grounded, character-driven way that never smacks of manipulation or special pleading.
This looks exactly like the kind of indie movie that I'm a sucker for, with an awesome soundtrack, a young love story, and more. Since I missed it at Sundance, you can bet I'll be seeking this one out when it arrives this summer, and I look forward to seeing what writer and director Chad Hartigan (This Is Martin Bonner) continues to do with his career.
A heartwarming and crowd-pleasing coming-of-age comedy with a unique spin, Morris from America 
centers on Morris Gentry (Markees Christmas, in an incredible breakout performance) a 13-year-old who has just relocated with his single father, Curtis (Craig Robinson) to Heidelberg, Germany. Morris, who fancies himself the next Notorious B.I.G., is a complete fish-out-of-water—a budding hip-hop star in an EDM world.  To complicate matters further, Morris quickly falls hard for his cool, rebellious, 15-year-old classmate Katrin. Morris sets out against all odds to take the hip-hop world by storm and win the girl of his dreams.
Morris from America hits DirecTV exclusively on July 7 and then select theaters on August 19.