'Howard The Duck' Star Lea Thompson Will Cameo In Chip Zdarsky's 'Howard The Duck' Comic Book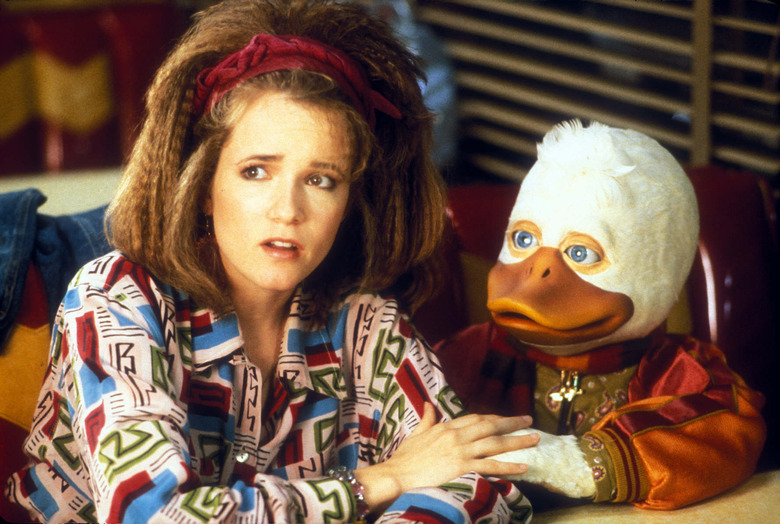 Marvel movies may seem nigh unstoppable today, but back in the 1980s a Marvel movie became one of the most notorious flops of all time. Critics hated Howard the Duck, fans were vocal about their disappointment, and audiences mostly failed to show up at all. But the tide is slowly turning for Howard. His film's attracted a cult following over the years, and in 2014 he made a splashy cameo in James Gunn's Guardians of the Galaxy, leading fans to speculate about a possible movie. (So far, no dice.)
Then last year, Marvel Comics launched a new Howard the Duck title penned by Chip Zdarsky to rave reviews. And now Howard's looking to reunite with an old co-star within the pages of said comic. Lea Thompson, who starred in the 1986 Howard the Duck movie, will appear as a character in an upcoming issue of the comic, in a storyline that ties back into her appearance in the film. Take a first peek at the Howard the Duck Lea Thompson issue below.
Exclusive: 'Howard the Duck' movie star returns for new comic version https://t.co/DTGdZOWfSl pic.twitter.com/WJV3L3f1PC

— The Hollywood Reporter (@THR) June 7, 2016
Thompson will appear in a two-issue arc that kicks off with this week's Howard the Duck #8. Though the introduction of a Howard the Duck movie star might seem like a gimmick, Zdarsky promises it's not. "We started planning this over a year ago, and a lot of the current storyline has been building toward this appearance, so it makes sense in-story and isn't just a stunt," he told The Hollywood Reporter.
The Howard the Duck comic, which is written by Zdarsky and drawn by Joe Quinones, follows the character's adventures as a private eye. Here's a summary of Thompson's arc:
Thompson, appearing in the comic as herself, shows up at his door to hire the diminutive duck for a missing persons case. But the missing person is her! It turns out that she has been losing amounts of time over the years and can't account for her actions or whereabouts. The answer to the mystery ties Thompson to her appearance to the 1986 movie.
George Lucas executive produced the 1986 film, which starred Beverly as Howard's (human) love interest Beverly. Thompson admitted that the film's flop was "painful" for her, although she was able to bounce back quickly with Some Kind of Wonderful. But Zdarsky reveals he's long been a fan of her and her work in the movie:
She was at the center of two pivotal movies for me growing up, the one where she sleeps with a duck and the other where she tries to sleep with her time-traveling son. I lived in a small town, and my friend Terry and I would rent the VHS tape over and over.... We both agreed that the titular song played at the end of the movie by Lea's band Cherry Bomb was the greatest song ever, so we used a microphone to record it from our TV speakers so we could listen to it whenever we wanted.