'Yoga Hosers' Trailer: Bratwurst Nazis Run Amok In Kevin Smith's Canada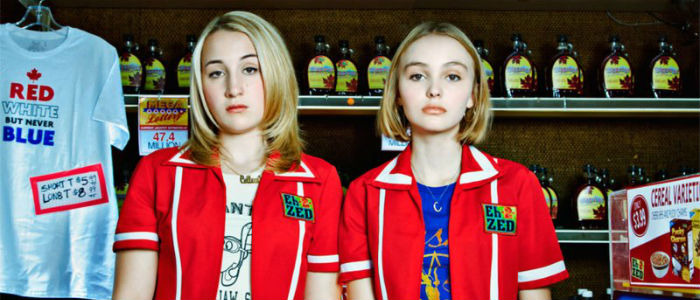 Based on the last trailer and Kevin Smith's recent output as a filmmaker, you probably already know whether you'll see his upcoming film, Yoga Hosers. The Winnipeg-set comedy, which recently earned a PG-13 rating, picks up where Smith left off with Tusk. He keeps trying new things as a writer/director, telling oddball stories that aren't for everyone. Yoga Hosers might be his oddest yet, featuring Canadian Nazis, Bratzis, and no shortage of emoticons.
Below, watch the new Yoga Hosers trailer.
Smith's 12th feature film to date stars Harley Quinn Smith, Lily-Rose Depp, Tony Hale, Natasha Lyonne, Genesis Rodriguez, Adam Brody, Justin Long, and Johnny Depp. At the Sundance Film Festival, Peter, who wasn't a fan of the film, called Yoga Hosers an "absurd live-action cartoon created by a stoner and a '90s-style teenage comedy," adding that it's "so strange, and unlike anything Kevin Smith has directed before."
Absurd and strange definitely come to mind while watching the new Yoga Hosers trailer:
A foot-tall Nazi made of bratwurst, played by Kevin Smith, is quite a turn in the director's career. Some of his earlier films, like Mallrats and Dogma, weren't without their moments of absurdity, but Yoga Hosers looks like the first full-on cartoon he's directed. Smith, as a storyteller, doesn't seem quite as interested in reality as he used to be. It's always admirable for a director to venture this far outside of their comfort zone, but after Red State, Tusk, and Yoga Hosers, it's a little difficult not to miss the days of Clerks and Chasing Amy, where a few relatable characters and everyday conflicts were enough for a story. He did ground and humanize a story as ridiculous as Dogma, and perhaps he's done the same with Yoga Hosers, but the trailer isn't very promising in that regard.
Here's the official synopsis:
Colleen and Colleen are BFFs AF. Manitoba is where they go to school together, do yoga together, play in a band together, and work together at a boring convenience store. Life is whatevs, but also on fleek. That's kinda what being 15 and a half is all about. #RealTalk
So when two older guys invite the Colleens to a senior party, the girls are determined to go no matter what—even if that "what" is a terrible, secret evil that threatens to destroy everything decent and polite about Canada. Can Colleen and Colleen save the day and go viral? Will those senior boys prove squad-worthy?
Yoga Hosers opens in select theaters on July 29th.