No, Thor Won't Be In 'Guardians Of The Galaxy Vol. 2'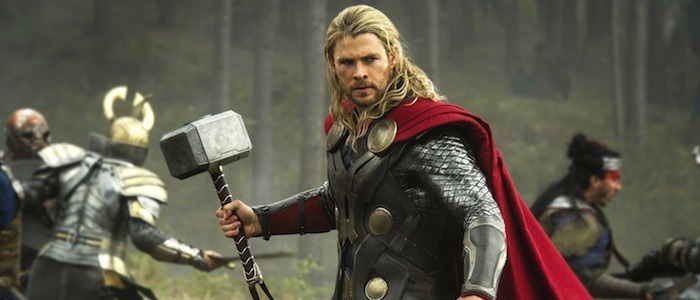 Last week, just before the weekend, fans were all abuzz online after Guardians of the Galaxy director James Gunn posted a picture of himself holding Mjolnir, the trusty hammer that is traditionally wielded by Thor. Since the filmmaker is currently busy at work on Guardians of the Galaxy Vol. 2, Marvel fans immediately assumed that Gunn was teasing a cameo from the God of Thunder (Chris Hemsworth). After all, since Thor comes from another part of the galaxy himself, it would make sense that he might encounter the ragtag team of space criminals turned heroes.
However, after the internet went crazy with speculation, Gunn made sure to clarify that Thor wouldn't be making a cameo with a quick little post. Have your dreams crushed of seeing Thor in Guardians of the Galaxy 2 after the jump.
Here's the photo that James Gunn posted to Instagram which caused the stir:
I'm starting to think this has nothing to being worthy.
A photo posted by James Gunn (@jamesgunn) on
While calling attention to a gallery of behind the scenes photos that Yahoo rounded up from Gunn's Instagram, the director made sure to clarify that Thor wouldn't be appearing in his movie with a post on Facebook:
"No, Thor isn't in Vol. 2 – the props guy just happened to have it around and I decided to take a pic with it. Not sure if I'm able to lift it because I'm worthy or because I'm soulless like an elevator."
This isn't the first time Gunn has made a statement regarding the appearance of any other Marvel superheroes appearing in Guardians of the Galaxy Vol. 2. In fact, Gunn made sure to remind everyone of this fact when responding to a fan on Twitter:
Remember, there will be no Avengers in Guardians of the Galaxy Vol. 2. Of course, that doesn't mean we won't see someone like Captain Marvel, another cosmic superhero, popping up in the movie. After all, she's not an Avenger yet, so she seems to be fair game. Marvel Studios is clearly making moves to get the role of the female superhero filled with word of Brie Larson emerging as the frontrunner. Having Captain Marvel appear in Guardians of the Galaxy 2, or at least in one of the credits scenes, would be a great way to tease her arrival on July 6, 2018. We'll find out if that's the case when Guardians of the Galaxy Vol. 2 arrives on May 5, 2017.