Tom Hiddleston Casts Doubt On His Chances Of Becoming The New James Bond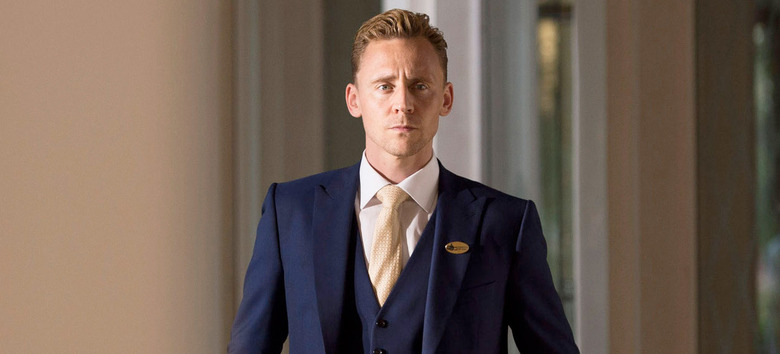 The future of James Bond is up in the air. Rumors have been swirling that Daniel Craig really doesn't want to come back for another mission as 007, and after his blunt comments indicating distaste for playing the iconic spy from the press tour for Spectre, that wouldn't be a surprise. In the wake of those rumors, there have been reports of actors like Jamie Bell and Tom Hiddleston being in talks with producers to take the role. But one of those seems a little less likely now.
Tom Hiddleston already has a key role in the Marvel cinematic universe as Thor's villainous brother Loki, and there are plenty of fans clamoring to see him throw on a tuxedo to play James Bond. However, while appearing at Wizard World Philadelphia recently, Hiddleston didn't seem optimistic of his chances to play the secret agent.
Here's what Hiddleston had to say when a fan asked about him being the next 007 (via ComicBook.com):
I don't think that announcement is coming, but I am very gratified to hear the enthusiasm. Your guess is as good as mine, to be honest.
The idea of a Tom Hiddleston James Bond isn't the most original casting decision, but since the actor already has quite the following, there's a chance he would snag some new eyes who normally don't care about the long-running spy franchise. At the same time, Hiddleston has plenty on his plate with a recurring role as Loki in Marvel movies, and that could prove to make scheduling him for James Bond movies fairly difficult. Or maybe Hiddleston doesn't want to tie up most of his time with two different blockbsuter franchises for fear of missing out on a wider variety of roles.
Hiddleston's comment sounds like he either knows that he's out of the running as a replacement or maybe Daniel Craig has already decided he'll come back for one more round on her majesty's secret service. The latter option has been seeming less likely lately since the Showtime series Purity, starring Daniel Craig, has been officially ordered for 20 episodes. That's something that will full up the actor's schedule for awhile, so if he is slated to return as Bond, it would be awhile before we see that happen.
There's a good chance that the studio doesn't want to wait that long for another James Bond movie to come around. So casting a new actor, one who wouldn't be so jaded with the role, would be the best approach. We've already proposed some other options for talent who could step into the role (Matthew Lewis is my favorite pick), some more likely than others, so maybe one of them will end up with the part. Stay tuned to see what happens with the future of James Bond.