Cate Blanchett In Talks To Join Female 'Ocean's Eleven' Spin-Off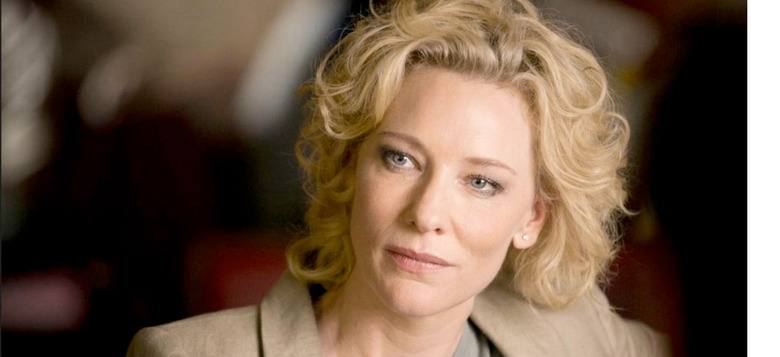 Over the past year, the cast of the developing female-led spin-off of Ocean's Eleven has been slowly growing. The first name attached to the project was Sandra Bullock, and recently a rumor pegged Jennifer Lawrence for a role (though her representative denied the story). Now another name has entered talks to take a role in the spin-off.
Lord of the Rings franchise and Carol star Cate Blanchett is currently in talks for a role in the movie that has the working title of Ocean's Ocho among the creative executives working on the project. For those who don't speak Spanish, "ocho" means eight, so we're looking at a cast that will feature a team of eight thieves instead of eleven. Get more details below.
The female Ocean's Eleven cast is bound to be a star-studded affair, and having Sandra Bullock and Cate Blanchett on board would be a good start. Bullock is taking the Danny Ocean role as the leader of the heist while Blanchett would be taking the Brad Pitt role as Bullock's right-hand woman (a role we gave to Zoe Saldana in our fantasy cast). It's important to note that the characters in these films are not merely female versions of those seen in the 2001 remake, but the dynamic between Blanchett and Bullock is inspired by the friendship between the Clooney and Pitt characters.
There have been rumblings that Bullock's character would be playing Danny Ocean's sister, and a cameo from George Clooney might come together for the spin-off. However, The Playlist notes that at this point, that doesn't seem likely to happen. However, the studio is hoping for sequels to follow, and Clooney could end up appearing in one of those.
In addition, Jennifer Lawrence shouldn't be counted out just yet. Though her initial casting was just a rumor and ended up being denied by her people, it sounds like the hold-up is scheduling. Lawrence has a good relationship with director Gary Ross after working with him on The Hunger Games, so her involvement makes sense, but she just may not be able to make it work among other projects she has coming up.
There's been some outcry about this film because the movie has been developing more quickly as the female-led Ghostbusters reboot gets closer, making some think there will be an influx of spin-offs/remakes of other movies with all-female principal players. However, this new take on Ocean's Eleven was in the works long before the female Ghostbusters project was put together. The project was mentioned in one of the e-mails reveals back during the Sony Pictures e-mail hack, but it stalled when Ocean's franchise producer Jerry Weintraub passed away. Now it has life again and seems to be coming together slowly but surely.
The cast will undoubtedly be the big appeal of this project, but the story will also be key. Hopefully it gets a little more creative and doesn't lift the same kind of story from Ocean's Eleven. Sure, the idea of a heist at the center of the film will be reused, but hopefully it's done in a way that mixes things up a bit. Rumors have pegged the story revolve around stealing a necklace from the famed Met Ball. However, rather than just stealing it, they also have to frame a crooked gallery owner for the crime. Hopefully screenwriter Olivia Milch has some good tricks up her sleeve.