See 'Independence Day' In Theaters Again: Double Feature With 'Resurgence' Planned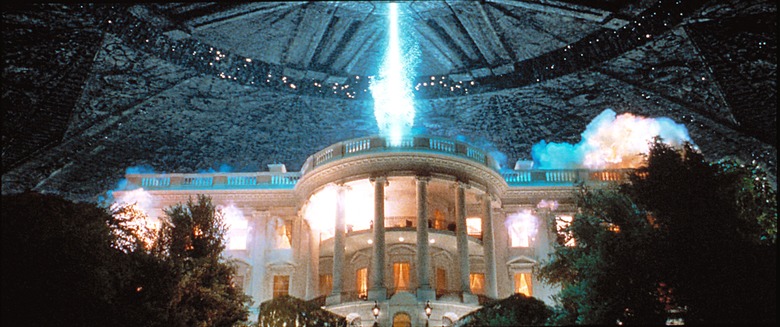 We may receive a commission on purchases made from links.
Later this month, Independence Day: Resurgence hits theaters, nearly 20 years exactly after the original sci-fi action blockbuster hit theaters. Now if somehow you haven't seen the film in those two decades, or if you're looking to experience it on the big screen again, 20th Century Fox has just the ticket for you.
The studio has announced that an Independence Day double feature has been planned to screen the day before the sequel hits theaters everywhere. Get more details after the jump.
The Independence Day double feature will begin at 5pm local time on Thursday, June 23 with a screening of the original 1996 film from director Roland Emmerich.  It was quite the big screen spectacle, pulling in over $817 million worldwide and featured some incredible visual effects.
The film made a star out of Will Smith and also features an ensemble cast that includes Jeff Goldblum, Bill Pullman, Brent Spiner, Vivica A. Fox, Margaret Colin, Robert Loggia, James Rebhorn Judd Hirsch and more. Some of them are returning for the sequel as well.
Speaking of which, the original Independence Day will be followed by the first screening of Independence Day: Resurgence in 3D at 8pm. Since the press release specifically indicates "in 3D," that likely means if you purchase a double feature ticket, you won't be able to see Resurgence in 2D if that's your preference. You'd have to buy another ticket for a 2D screening, unless you can work something out with your respective theater.
For double feature tickets and participating locations, check out MovieTickets.com or Fandango.
If you're not able to make it out to the double feature, a new 20th anniversary edition of Independence Day just hit Blu-Ray last month, and you can get it right now for just $10. That doesn't mean you can't still see the sequel on June 23, because there will be plenty of standalone screenings of Independence Day: Resurgence on that evening as well.
Watch the most recent theatrical trailer for Independence Day: Resurgence below:
Or if you want to see much more footage, check out this extended five-minute trailer right here.
After INDEPENDENCE DAY redefined the event movie genre, the next epic chapter delivers global spectacle on an unimaginable scale.  Using recovered alien technology, the nations of Earth have collaborated on an immense defense program to protect the planet.  But nothing can prepare us for the Aliens' advanced and unprecedented force.  Only the ingenuity of a few brave men and women can bring our world back from the brink of extinction.
Independence Day: Resurgence has early screenings the evening of June 23 and arrives everywhere on June 24.