Legendary Boxer Muhammad Ali Has Died At 74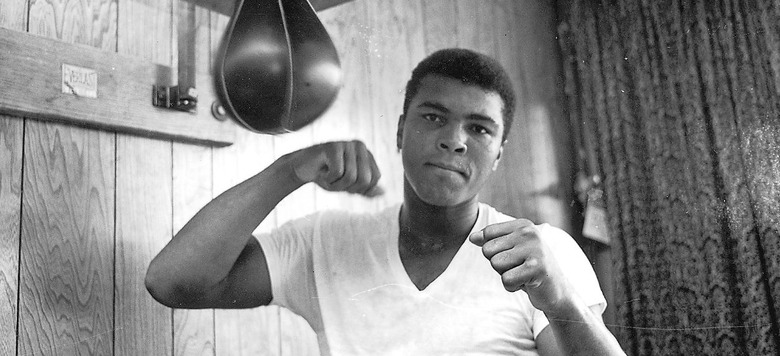 Float like a butterfly, sting like a bee. Even people who aren't boxing fans know that iconic taunt from legendary boxer Muhammad Ali, the self-proclaimed greatest of all time who just so happened to live up to the moniker. Sadly, the iconic athlete is no longer with us as news from his family's spokesman Bob Gunnell has confirmed Muhammad Ali has died at 74 after being hospitalized earlier in the week with respiratory problems.
Below, we remember the boxer whose image spanned to cinema in a variety of ways, but just may have been larger than the big screen itself.
The New York Times confirmed the news of Muhammad Ali dead in the early hours of Saturday morning. Ali was expecting to stay at the hospital briefly to recover from his health issues, but late Friday night his condition became grave and he just couldn't fight back anymore.
Muhammad Ali was born in 1942, but he wouldn't be known by that name until the 1960s. Born Cassius Clay, the boxer would come to renounce what he called his "slave name" once he converted to Islam. The New York Times has a fascinating look at Ali's namesake, which created a split among sports fans at the time, in the video below:
Muhammad Ali's boxing career took off when he fought Sonny Listonin 1964 for his first heavyweight championship. During this bout he called himself "the greatest" and was more than vocal with taunts, often in rhyme. This fight is where the iconic "float like a butterfly, sting like a bee" phrase came from. His behavior earned him the nickname "The Louisville Lip" and resulted in many sports fans coming to hate the man for his cockiness in the ring. But just as many loved him for refusing to be anyone but himself. After all, he backed up everything he said by truly being the greatest boxer of all time.
In a boxing career that spans 21 years, Muhammad Ali earned three world heavyweight boxing titles, dozens of championships and an Olympic gold medal, all totaling 56 fights where he only ever lost five (winning 37 by knockout). Of course, despite his greatness, he faced the ugly racism that was rampant in the country at the time. After being refused service at a soda fountain, he responded by throwing his Olympic medal in a river.
Ali had to face even more adversity when his boxing career was put on pause by the government as he was arrested and convicted of draft dodging for his refusal to go to war in Vietnam. He cited religious beliefs and made quite the stir over the situation. Here's a statement he made on the matter that lays out his stance pretty clearly:
"Why should they ask me to put on a uniform and go 10,000 miles from home and drop bombs and bullets on Brown people in Vietnam while so-called Negro people in Louisville are treated like dogs and denied simple human rights? No I'm not going 10,000 miles from home to help murder and burn another poor nation simply to continue the domination of white slave masters of the darker people the world over. This is the day when such evils must come to an end. I have been warned that to take such a stand would cost me millions of dollars. But I have said it once and I will say it again. The real enemy of my people is here. I will not disgrace my religion, my people or myself by becoming a tool to enslave those who are fighting for their own justice, freedom and equality. If I thought the war was going to bring freedom and equality to 22 million of my people they wouldn't have to draft me, I'd join tomorrow. I have nothing to lose by standing up for my beliefs. So I'll go to jail, so what? We've been in jail for 400 years."
This resulted in Ali being banned from the sport and losing his heavyweight title. But in 1971, the US Supreme Court overturned that conviction, restored his title, and he was allowed to return to boxing for 10 more years.
But after his boxing career was over, he did plenty of humanitarian and civil rights work, fighting against racism and prejudice. Ali even once helped negotiate the release of US hostages who were being held in Iraq by having a meeting with Saddam Hussein in 1990.
As Ali's life went on, he became diagnosed with Parkinson's Disease in 1984, and the symptoms eventually resulted in him being unable to speak, though he would still make public appearances, especially in efforts to support research to help cure Parkinson's disease. Here's one advertisement where he teamed up with Michael J. Fox and his big personality still shined through, even without saying a word:
Ali's life and career has been chronicled countless times in films. He even played himself in a movie appropriately called The Greatest in 1977. The film followed Ali's life up to the late 1970s following his Olympic win as Cassius Clay, his conversion to Islam, his refusal of the Army draft and the legal battle after being stripped of his title. Will Smith would cover similar territory when he played the boxer in Ali, earning a Best Actor Oscar nomination for the Michael Mann film.
But the film that everyone should see that follows Muhammad Ali is When We Were Kings. The film follows Ali at 32 years old, viewed as being past his prime and preparing to face George Foreman, the heavyweight champion of the world, in a fight that would come to be known as the Rumble in the Jungle. The documentary provides a fascinating insight into Ali's career at the time, boxing in general, and one of the greatest events in sports history.
There's also a movie being planned around one of Ali's other iconic fights, the "Thrilla in Manila." Ang Lee has been said to be working on a 3D film adaptation of this iconic event with Ray Fisher (set to play Cyborg in Justice League) and David Oyelowo (Selma) cast in the lead roles as Ali and his opponent Joe Frazier, respectively.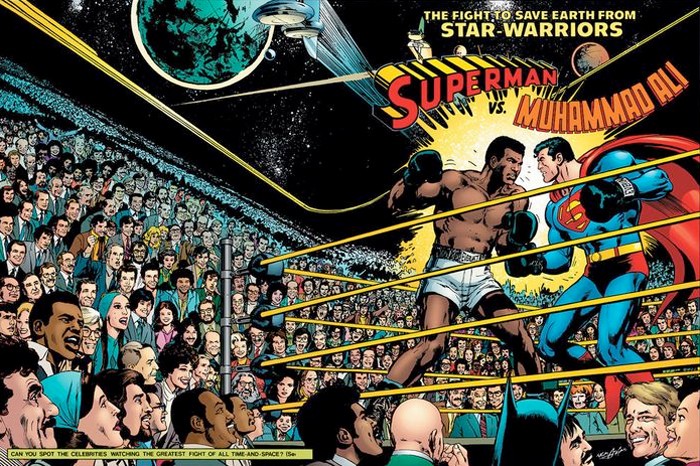 On a personal note, at 10 years old I had the honor of meeting Muhammad Ali at a regional airport near my hometown in Indiana. My mother and I had just saw my father take off for a business trip (yes, this was when airports let non-flyers into the terminals), and as we were walking towards the exit, out of the gate from a plane that had just landed was the legend himself.
My mother didn't need to tell me who it was, and everyone else in the airport had their eyes on him. There weren't any camera phones, so people just gazed in awe. A few people decided to step up to shake his hand and express their respect for him to which he would nod and vaguely smile since his Parkinson's Disease left him without total control of his body.
When my mother and I stepped up to greet him, he slowly, playfully made a boxing stance to fight me. I laughed and then he gave me a hug. And still the charmer that he always was, he leaned down to my mother and pointed to his cheek, requesting a kiss from her, to which she happily obliged. I'll never forget that.
If you'd like to read more about Muhammad Ali in the wake of his passing, New York Magazine has a great rundown of some of the best articles written about him right here. You can also get the story behind that Superman comic match-up above right here.
Muhammad Ali is undoubtedly one of the greatest athletes the world has ever seen, and he will always be the best boxer of all time. Our thoughts go out to his friends and family during this difficult time. Rest in peace.