Actor Ian McShane Is More Than Ready To Return To 'Deadwood'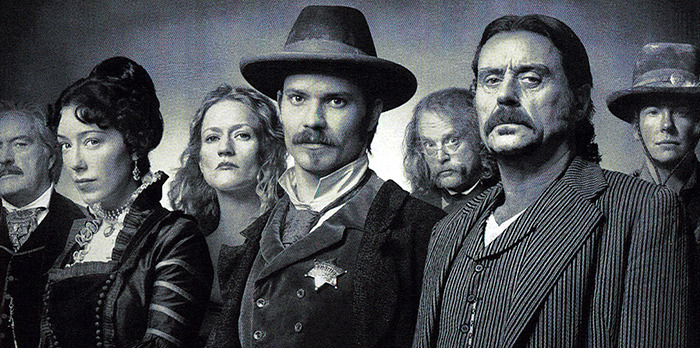 Deadwood is one of the many HBO shows that had its life cut too short. Ever since the series was canceled, there have been talks of creator David Milch wrapping the series up with a film. One year a Deadwood movie appears likely, the next year it's reported as dead. A few months ago, though, HBO confirmed "it's going to happen," and they're ready when Milch is.
Below, check out the latest Deadwood movie update from actor Ian McShane.
McShane played Al Swearengen, owner of the Gem Saloon, in the series. Over the years, the actor has been asked time and time again about the Deadwood movie. McShane, who's currently in this season of Game of Thrones, gave a brief but promising update to Entertainment Weekly, saying that he's enthusiastic about potentially returning to the role and that Milch is writing the script at the moment:
Of course I'd love to reprise that. How could one not, when it was snatched away rather unjustly by a combination of forces we'll never know about – hubris or money or whatever. But [Deadwood] certainly finished too early. At the time, most of us working on the show were incredulous. It's been announced by HBO so it's not like I'm saying it. I know for a fact David is working on the script. It's been 10 years since it finished. [Star Timothy Olyphant's] free from Justified.
I'm hoping they'll make the deal soon, for two or four hours, whatever they decide on. It was a very close knit group of actors on it. We got along very well. I'm sure David will decide to set it 10 years later, after the great fire or whatever happened in Deadwood. They haven't done the deal yet. They [were planning] to do it late this year or early next year.
Whether McShane means a "deal" between HBO and Milch or shooting the Deadwood movie later this year or early next year is unclear. If he means the plan to start filming in late-2016 or early-2017 was scrapped, the delay possibly could have been caused by Milch's other project, Shadow Country, an adaptation of Peter Matthiessen's novel, which will star Jeff Bridges. As HBO said, they're ready to go when Milch is. Before we–fingers crossed–see McShane play the beautifully foul-mouthed Al Swearengen again, we'll him next year in John Wick 2 and Starz's adaptation of Neil Gaiman's American Gods.