Gillian Anderson Reunites With 'Hannibal' Creator Bryan Fuller For 'American Gods'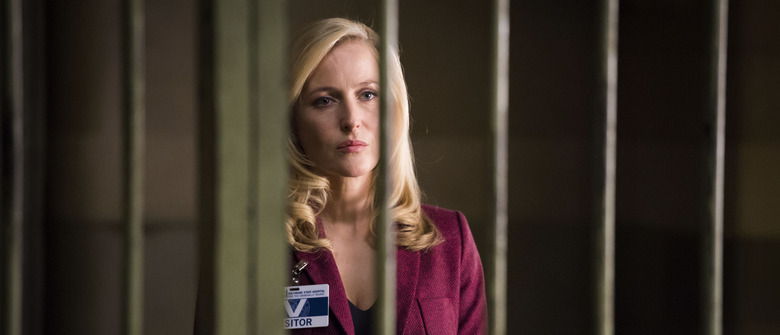 Bryan Fuller may be holding out hope for more Hannibal, but even if a return does come together in some shape or form, it's probably not going to happen anytime soon. So in the meantime, here's a tasty little morsel to tide you over. Fuller is planning a Hannibal mini-reunion, casting Gillian Anderson in his new Neil Gaiman-inspired series American Gods. Naturally, she will play a character who lives to be worshipped. Starz announced the American Gods Gillian Anderson casting:
Anderson plays Media, the mouthpiece for the New Gods, functioning as their public face and sales representative, by taking the form of various iconic celebrities. She lives off the attention and worship that people give to screens-to their laptops, their TVs, to their iPhones in their hands while they watch their TVs. Ever the perky spokesperson, and always in control, she spins stories in whatever direction best suits her.
MEDIA ALERT (literally): @GillianA has officially joined #AmericanGods as Media! pic.twitter.com/vZceQEJijJ

— American Gods US (@americangodsus) June 3, 2016
That seems just about perfect for Anderson, who thanks to The X-Files is something of a media goddess in our own world. Anderson will guest-star in multiple episodes of the fantasy drama. Sure, it's not as good as a real Hannibal return — we miss you, Bedelia – but any project that puts Fuller and Anderson back together is one we're excited to see. Anderson was last seen reprising her signature of Dana Scully in Fox's The X-Files revival, and is now shooting the third and final season of the crime drama The Fall.
American Gods stars Ricky Whittle as an ex-con named Shadow who becomes body guard to an ancient god posing as a con man called Mr. Wednesday (Ian McShane). They go on a cross-country journey to amass forces for an impending battle between the old gods, who are rooted in mythology, and the new, who are based in modern obsessions like money, celebrity, and technology.
Fuller and Michael Green created American Gods and are executive producing along with Gaiman. David Slade is directing the first episode.