'Norman Lear: Just Another Version Of You' Trailer: The Man Who Changed TV Forever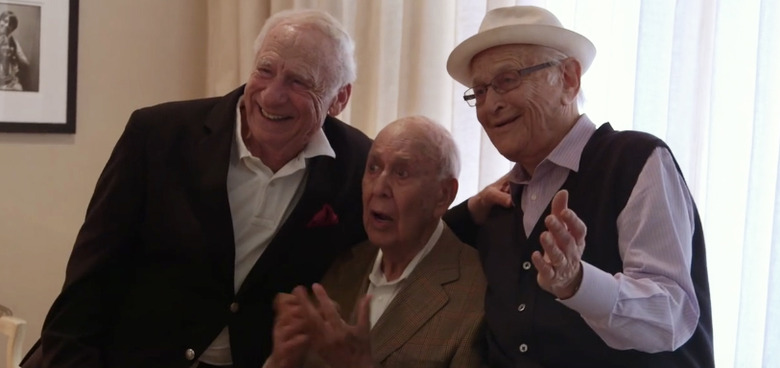 Everybody Loves Raymond creator Phil Rosenthal says, "Television can basically be broken down into two parts: before Norman and after Norman." The "Norman" in question is none other than Norman Lear, the iconic producer behind groundbreaking television shows such as All in the Family, Good Times, The Jeffersons and Maude. The new documentary Norman Lear: Just Another Version of You debuted earlier this year at the Sundance Film Festival and now the riveting documentary about the man and his impact on television is coming to theaters this summer.
Watch the Norman Lear documentary trailer after the jump.
Here's the Norman Lear: Just Another Version of You trailer from Music Box Films:
I had the pleasure of catching the Norman Lear documentary at Sundance and praised the film in my review as "an enlightening, intimate profile of a man who had the kind of impact on television, and entertainment in general, that we will likely never see again." However, it's not flawless as there is recurring footage of a child on a stage used as a stand-in for Norman Lear, and it just feels out of place.
Beyond that, Lear's career and innovations are so enthralling that you still want more even after it's done. Segments like the one where Lear spends time with Mel Brooks and Carl Reiner (seen at the top) could have been a documentary unto itself. But what I like about the documentary is that as much praise is thrown in Lear's direction, his flaws are also shown as well. As I wrote in my review:
While Lear's contribution to television is praised, it's not done in an overwhelming, hyperbolic way. Along with all the good that Lear did on TV, the doc also point out the troubles and shortcomings of the popular but divisive Good Times, which actually led to him to respond to complaints about the show with The Jeffersons.
If this documentary doesn't make it to a theater near you, seek it out whenever you can, especially if you're a fan of television history. Jesus Camp directors Heidi Ewing and Rachel Grady have crafted a captivating story about the flickering box and the man who essentially invented the modern sitcom.
Arguably the most influential creator, writer, and producer in the history of television, Norman Lear brought primetime into step with the times. Using comedy and indelible characters, his legendary 1970s shows such as All In the Family, Maude, Good Times, and The Jeffersons, boldly cracked open dialogue and shifted the national consciousness, injecting enlightened humanism into sociopolitical debates on race, class, creed, and feminism.
Norman Lear: Just Another Version of You is the definitive chronicle of Mr. Lear's life, work, and achievements, but it is so much more than an arm's-length, past-tense biopic; at 93, Mr. Lear is as vital and engaged as he ever was. Top-notch cinéma vérité documentarians Rachel Grady and Heidi Ewing (Jesus Camp, 12th & Delaware, DETROPIA) seize the opportunity to fashion a dynamic portrait that matches the spirit of their subject. Breaking down the fourth wall to create an evocative collage where past and present intermingle, they reveal a psychologically rich man whose extraordinary contributions emerge from both his personal story and a dialogue with the world.
Normal Lear: Just Another Version of You hits limited theaters on July 8.