'The Wailing' Trailer: Mysterious Evil Plagues A Rural Village In Cannes Thriller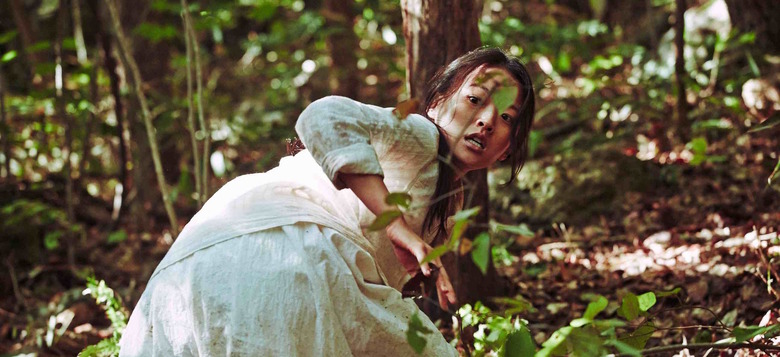 Typically, when a film garners big buzz at a splashy festival premiere, it takes a few months — sometimes a full year or more — before the rest of us at home get the chance to check it out. That is happily not the case with The Wailing, Na Hong-jin's chilling thriller about a rural village that falls prey to a mysterious outbreak of violence. The film did big business at the South Korean box office before wowing Cannes in May, and its limited U.S. release begins this weekend. Get a glimpse of the horror to come with a new The Wailing trailer below. 
It looks like creepy, interesting stuff, and it's already earned some critical raves. Salon's Andrew O'Hehir has declared it "the summer's first great movie," Variety's Maggie Lee has praised Na's "masterful use of suspense," and Twitch's Pierce Conran believes it might be "the best Korean film since Lee Chang-dong's Poetry." Sure, some others have called it "too crazy for its own good," and even some of the positive reviews have admitted that it may not entirely make sense. But in a summer bloated with samey blockbuster sequels, maybe a weird foreign horror is exactly the palate-cleanser we need.
If that sounds like your cup of tea, The Wailing hits several markets in the U.S. this weekend, and will continue rolling out across the country over the next several weeks. To see where and when it'll be playing near you, check the official site.
In this unbelievably tense supernatural thriller, a foreigner's mysterious appearance in a quiet, rural village causes suspicion among the locals — suspicion which quickly turns to hysteria as the townspeople begin killing each other in brutal outbursts for seemingly no reason. As the investigating officer watches his daughter fall under the same savage spell, he agrees to consult a shaman for answers — unknowingly escalating the situation into something far more dangerous.
Over six years in the making, director Na Hong-jin's meticulously crafted follow-up to the globally acclaimed THE YELLOW SEA and THE CHASER (his third to premiere at the Festival de Cannes) smashed box office records upon its debut in South Korea, where fans are already making return viewings to catch new clues and debate what's sure to be the most talked-about ending of 2016.