'Raiders Of The Lost Ark' Gets A Shot-For-Shot Trailer Remake, Courtesy Of 'Raiders!' Doc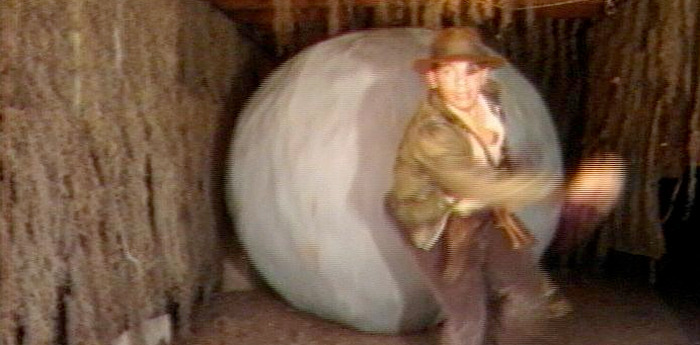 This year marks the 35th anniversary of Raiders of the Lost Ark, and there's already a way to celebrate with a new print by Laurent Durieux available for purchase at Bottleneck Galley. But if that's not enough, this summer also marks the release of Raiders! The Story of the Greatest Fan Film Ever Made, a documentary about a group of kids who set out to make a shot-for-shot remake of the Steven Spielberg classic. Their endeavor spans decades, and we get to learn all about their process as they set out to finally finish it.
In honor of the release of Raiders! and the 35th anniversary of the film that inspired its subjects, Alamo Drafthouse has released a shot-for-shot recreation of the original movie's trailer using footage from Raiders of the Lost Ark: The Adaptation. It shows you just how dedicated these kids were to their project and how impressive their low budget work and passion still is.
Watch the Raiders of the Lost Ark trailer remake below.
Alamo Drafthouse sent out this video as they get ready to embark on a nationwide tour with Raiders!. Some of the screenings will include Q&A sessions with the film's subjects and/or the directors while others will have double features of both the documentary and the adaptation. You can check out the full list of stops on the tour right here. If there isn't one in your area, keep checking back because they're in the process of adding more dates.
If you can't catch the tour, Raiders! The Story of the Greatest Fan Film Ever Made is hitting select theaters and VOD on June 17.
After Steven Spielberg's classic Raiders of the Lost Ark was released 35 years ago, three 11-year-old boys from Mississippi set out on what would become a 7-year-long labor of love and tribute to their favorite film: a faithful, shot-for-shot adaptation of the action adventure film. They finished every scene...except one; the film's explosive airplane set piece.
Over two decades later, the trio reunited with the original cast members from their childhood in order to complete their masterpiece. Featuring interviews with John Rhys Davies, Eli Roth and more, Raiders!: The Story of the Greatest Fan Film Ever Made is just that: the story of this long-gestating project's culmination, chronicling the friends' dedication to their artistic vision—mixed in with some movie magic—to create a personal, epic love letter to a true modern classic.