'Captain Marvel': Jennifer Kent And Niki Caro In The Running To Direct Marvel Superhero Adventure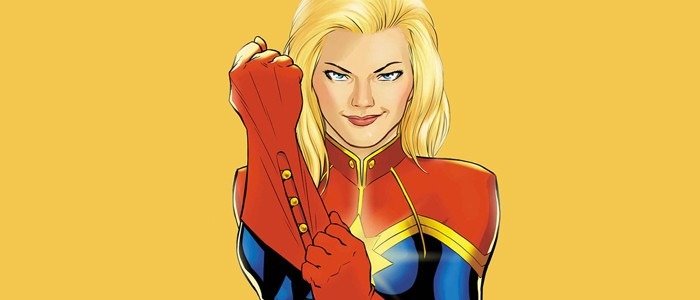 It looks like Captain Marvel is preparing to take some big leaps forward. Yesterday Brie Larson emerged as the frontrunner for the title role, and now we have word on which filmmakers could take charge behind the scenes. While Marvel has yet to announce anything official, a new report says Niki Caro (Whale Rider) and Jennifer Kent (The Babadook) are among the directors being eyed for the gig. 
Buried in a THR story about Larson's possible involvement with the film was a comment about which directors are in contention for Captain Marvel. It's believed that Marvel Studios wants a female director to helm their first female superhero movie, and according to the trade's sources Caro and Kent are two of the names being tossed around. At this point it's possible another, as-yet-unnamed contender could swoop in and take over, but it's still interesting to get an idea of what kinds of talents Marvel is considering for the job.
Caro is a New Zealand director whose credits include Whale Rider and North Country. She just recently teamed with Disney for McFarland, USA, and her next release is The Zookeeper's Wife starring Jessica Chastain and Daniel Brühl. The Australian Kent has just one feature directing credit under her belt, but it's a doozy: The Babadook, which became an instant classic when it was released in 2014. She's currently preparing her sophomore effort, a 19th century revenge drama called The Nightingale.
Both fit the usual profile for Marvel directors. Kent is a promising indie filmmaker, like Thor: Ragnarok's Taika Waititi and Spider-Man: Homecoming's Jon Watts were when Marvel scooped them up. And Caro is an experienced filmmaker with a solid resume but little big-budget blockbuster experience, a la Doctor Strange's Scott Derrickson or Guardians of the Galaxy's James Gunn. Of course, both also represent a big change of pace for the franchise in another way — either one would be the MCU's first female director.
However, while Marvel may want Kent, it's unclear if the interest is reciprocated. In a recent interview with The Guardian (via The Playlist), the director hinted that she's turned down projects like this before. "It's funny, when I hear people crying about, 'Oh, female directors are never offered these big tentpole films ... what about Jennifer Kent? She's not doing anything!'" she said. "I sort of read it and chuckle because, well, you have no idea what's going on at my end – what I'm actually saying no to."
In any case, Marvel has plenty of time to make a decision, as Captain Marvel is set for release on March 8, 2019. It will be the 21st film set in the Marvel Cinematic Universe.