Steven Spielberg's 'Ready Player One' Recruits 'Silicon Valley' Star T.J. Miller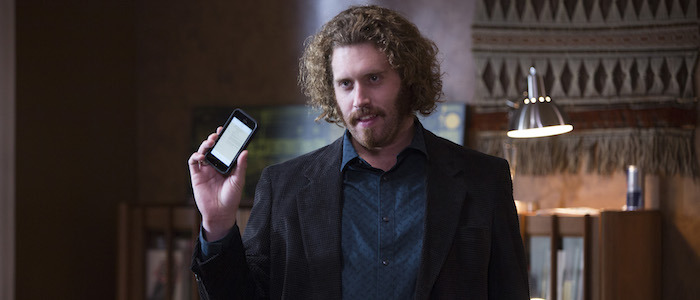 Few shows make me laugh like Silicon Valley and few people on Silicon Valley make me laugh like T.J. Miller makes me laugh. Although Miller has been working steadily since making his film debut in 2008's Cloverfield (he was the guy behind the camera), he's finally come into the spotlight in the past few years. Those who don't know him from the funniest show currently airing on television probably saw him as Weasel in Deadpool a few months ago, where he played an effective foil to Ryan Reynolds' Wade Wilson.
Still, all of that feels like prologue to being cast in a Steven Spielberg movie. Miller has joined the ensemble of The Beard's latest project, Ready Player One.
According to The Hollywood Reporter, Miller will take on the role of "i-R0k," an online troll in the forums for the massive virtual world where the bulk of the story takes place. An irritating internet commenter in a dystopian science fiction world sounds like a role Miller was destined to play.
Miller joins a cast that already includes Tye Sheridan, Olivia Cooke, Simon Pegg, Ben Mendelsohn, and Spielberg's latest muse, Mark Rylance. In other words, Ready Player One will star two of the more promising young actors around right now, a beloved geek icon, a brilliant character actor/new Star Wars villain, one of the finest actors of all time (who just took home an Oscar a few years ago), and one of the funniest people around at the moment. That is one solid line-up.
Honestly, that's the kind of cast that gives me faith in Ready Player One, especially since I couldn't bring myself to finish Ernest Cline's original novel. I expect (and hope) Spielberg will lean heavily on the the book's impressive world-building and science fiction concepts and quietly ditch the overt (and eventually numbing) reliance on constant pop culture references, although the plot does require more than a few of them. If there is anyone who can carve a great movie out of this material, it's the greatest populist filmmaker of the past forty years.
Ready Player One should start shooting later this month for a March 30, 2018 release date. Here's the official plot synopsis:
In the year 2044, reality is an ugly place. The only time teenage Wade Watts (Tye Sheridan) really feels alive is when he's jacked into the virtual utopia know as the OASIS. Wade's devoted his life to studying the puzzles hidden within the confines of this digital world, puzzles that are based on their creator's obsession with the pop culture of decades past and that promise massive power and fortune to whoever can unlock them. But when Wade stumbles upon the first clue, he finds himself beset by players willing to kill to take this ultimate prize. The race is on, and if Wade's going to survive, he'll have to win – and confront the real world he's been so desperate to escape.