Cool Stuff: Andrew Kolb's 'Galaxy Quest' Prints Imagine Action Figures That Never Were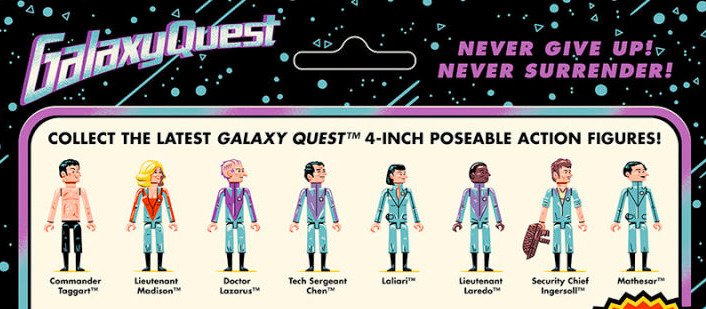 Galaxy Quest has become quite the popular movie since its release. It wasn't a runaway hit at the box office back in 1999, but it still pulled in just over $90 worldwide on a budget of just $45 million, according to Box Office Mojo. If that happened today, there would likely be a sequel fast-tracked into development. Sadly, it seems any chances of seeing Galaxy Quest 2 went away when Alan Rickman passed away earlier this year.
Instead of being sad that we'll never see the crew from the NSEA Protector back on the big screen again, we can take the time to appreciate that the film still has some loyal fans. Thankfully, one of those fans is a talented artist named Andrew Kolb, and he's just teamed up with Mondo to release a pair of fantastic new prints that imagine a world where Galaxy Quest action figures were available on shelves. Check out the Galaxy Quest prints after the jump.
Here's the two Galaxy Quest prints straight from Mondo:
Here's what Kolb had to say about his Galaxy Quest creations:
"When the guys approached me with GALAXY QUEST, I knew my only option was to figure out a way to respect both the film and the properties that inspired it. I had this huge list of character beats that I wanted to highlight and then it all came together: just like other franchises, this was perfect for an action figure line."
These screenprints measure 18x24 inches, both with an edition of 150, and will cost you $40 each. That's $80 for the set for anyone who is a liberal arts major like me. Since these are Mondo prints, you'll have to stay tuned to @MondoNews on Twitter to find out exactly when they'll go on sale sometime today. Now if someone could just make some Galaxy Quest figures, even if they're just ReAction figures, that would be splendid.