Exclusive: The Alamo Drafthouse Set To Screen 'The Shallows' On The Water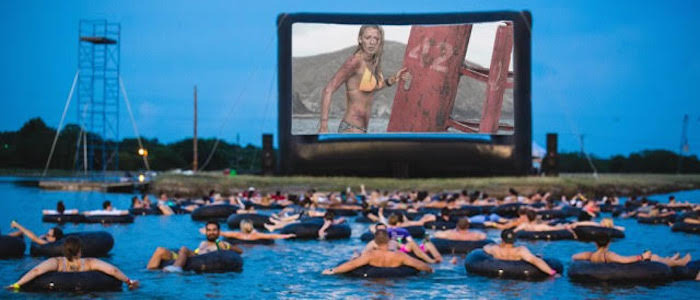 The Alamo Drafthouse theater chain is known for its unique (and frequently insane) special events and screenings, but it's awfully hard to top one of their regular summer events: Jaws on the Water. After all, if you're going to watch a movie about a killer shark treating people like an all-you-can-eat buffet, why not up the ante and watch it while floating in an inner tube in the middle of a large body of water?
Now, the Drafthouse is looking to apply this same concept to The Shallows, the upcoming horror film that stars Blake Lively as a stranded surfer who has to match wits with a very hungry Carcharodon carcharias if she ever wants to set foot on dry land again. Even if The Shallows is a ton of fun in a theater (and the trailers have made it look like a gnarly must-see), there is probably no better way to watch this film for the first time.
This special "Dive-In" screening of The Shallows will be held at Next Level Ride in Del Valle, Texas (located just outside of Austin) on Tuesday June 28, 2016, one day before the film opens in theaters. Tickets are on sale right now and your admission will include your very own "exclusively designed keepsake inner tube" that you can take home after the credits roll.
Henry Mazza, the Alamo Drafthouse VP of Special Events, had this to say about the screening:
As soon as we saw the teaser for The Shallows, we knew what we wanted to do: take our Jaws on the Water concept a step further for an insanely fun, completely terrifying one night-only DIVE-IN experience. I mean, watching The Shallows for the first time before we know what's going to happen and when, and floating in water? Yikes.
Prior to the screening, attendees will be able to participate in themed events, order a meal from local food trucks, and pick up an alcoholic beverage at the Lone Star Beer Garden (because it wouldn't be a Drafthouse event without the opportunity to get a little tipsy).
Although the event itself sounds like a blast on its own, it helps that The Shallows looks like a genuinely god time at the movies. After all, director Jaume Collet-Serra is the madman behind Orphan, which the kind of deranged gem that earns a director a lifetime pass. He's the exact kind of lunatic I'd want directing a movie about Blake Lively being menaced by a hungry shark.
The Shallows opens on dry land on June 29, 2016. The official hashtag for the film is #TheShallows, if that's your kind of thing.