'Logan's Run' Remake Finds A Screenwriter In 'Colony' Co-Creator Ryan Condal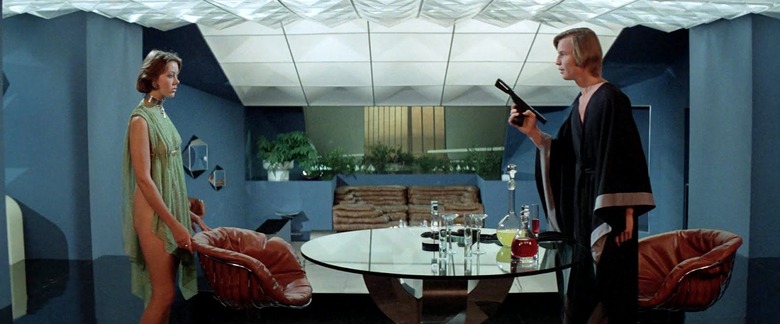 Over the years, the Logan's Run remake has enlisted an array of talent. Nicolas Winding Refn, Bryan Singer, Christopher McQuarrie, Alex Garland, and others have worked on reimagining the 1967 science-fiction film. Refn and Gosling appeared the closest to pulling the remake off, but then the duo dropped out. Last summer, screenwriter/producer Simon Kinberg boarded Logan's Run, writing a treatment another screenwriter would later come in and work from. Now, Kinberg, producer Joel Silver, and Warner Bros. have found that writer.
Below, check out the latest Logan's Run update.
Deadline reports that Ryan Condal, the co-creator and showrunner of Colony, is writing the new script based on Kinberg's treatment. Condal and Kinberg's approach to Logan's Run is inspired more by William F. Nolan's 1967 novel than director Michael Anderson's 1976 adaptation. The essence of the story is the same: set in an ageist society where citizens are executed by the time they reach a certain age. In the book, they're killed at 21; in the original film, death comes at the age of 30.
A few months ago, Kinberg said they were speaking with directors to take over the project, but we've yet to hear an official announcement. At the time, the producer — who most recently worked on X-Men: Apocalypse–called Logan's Run Warner Bros.'s "Hunger Games kind of franchise":
It's something that potentially is their Hunger Games kind of franchise that is about a younger audience for a younger audience with a big idea. And Logan's Run, as you know, is the granddaddy of Maze Runner and Hunger Games and so many of these books and movies now. So yeah, they're seeing it as a potentially really big franchise. There is some thought about what the future films would be and where you could take Logan in future movies, but the focus is on 'Make a great movie.' It was 'Let's make one great movie that people fall in love with but be prepared that if they do, we could make future films and what would they look like and where would you go again with the character in the next film?'
Kinberg added there's "a lot from the original film" in his treatment, that the remake is more of a "reinterpretation" than a "whole scale recreation." The screenwriter will remain involved in the remake, producing alongside Silver and Greg Berlanti (Arrow). As for Condal, he's currently co-writing the video game adaptation Rampage with Carlton Cuse (Bates Motel), the co-creator of Colony.