LOL: Watch More 'Star Wars: The Force Awakens' Auditions In 'SNL' Bonus Footage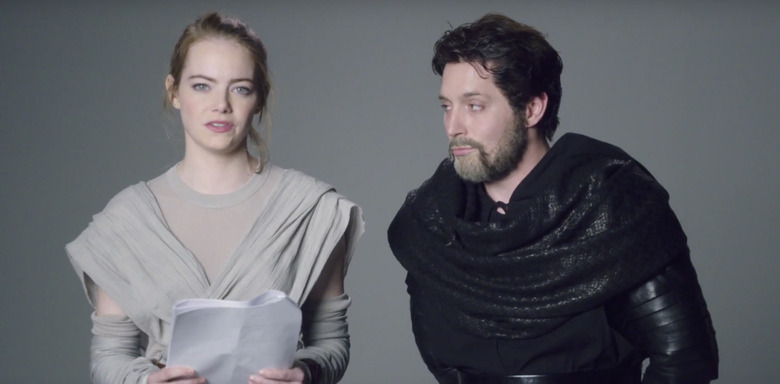 The 41st season of Saturday Night Live might be over (read my review of the season finale hosted by Fred Armisen right here), but that doesn't mean the late night sketch show is done releasing new material for us to enjoy.
You might remember last fall, when Matthew McConaughey hosted Saturday Night Live, there was a sketch featuring footage of a bunch of auditions for Star Wars: The Force Awakens. Stars Daisy Ridley and John Boyega got in on the fun with the rest of the SNL cast and even Jon Hamm and Emma Stone popped up. Now more auditions that were cut from the final sketch have been revealed online, including one with Matthew McConaughey making a pretty poor pitch to play Lando Calrissian.
Watch the extra SNL Star Wars auditions after the jump.
Once you watch the footage, it's easy to see why the sketch was cut down to the version we saw air last fall. The extra impressions just aren't that great. Vanessa Bayer's impression of Jennifer Lawrence doesn't last as well after Ariana Grande delivered such a surprisingly outstanding impersonation of the actress earlier this year.
However, the mocking of Joseph Gordon-Levitt and all his HitRecordJoe shenanigans was spot on, and Kyle Mooney parodies two of the more stranger activities of Shia LaBeouf pretty well. But the real highlight is John Boyega becoming a more "urbanized" Stormtrooper, which basically has him going full-on Denzel Washington in Training Day.
Watch the previous SNL Star Wars: The Force Awakens auditions right here.