'Pitch Perfect 3' Delayed, Colin Trevorrow's 'Book Of Henry' Sets Fall Date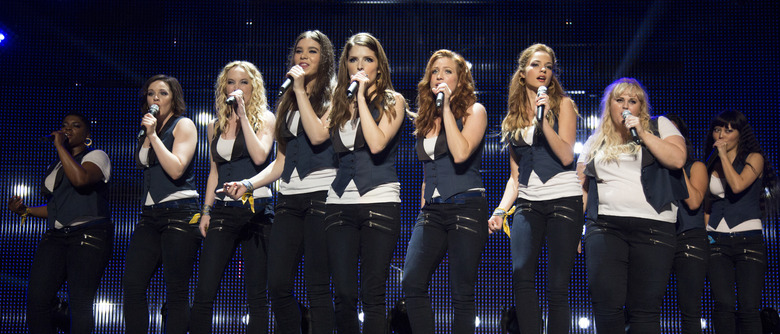 A cappella fans are going to be left waiting a little bit longer for the Barden Bellas' encore. Universal Pictures has delayed Pitch Perfect 3 by five months, moving it from summer 2017 to holiday 2017. That turns out to be good news for Regina Hall's new comedy Girl Trip, which will now take over Pitch Perfect 3's old spot.
Meanwhile over at Focus Features, Colin Trevorrow's follow-up to Jurassic World, Book of Henry, is now set to open this fall. Get details on the new Pitch Perfect 3 release date and more below. 
According to Box Office Mojo, Pitch Perfect 3 will now open December 22, 2017, where it'll be up against The Croods 2, The Six Billion Dollar Man, an untitled Warner Bros. comedy, and (gulp) the second weekend of Star Wars: Episode VIII. The original Pitch Perfect became a sleeper hit in fall of 2012, taking in $115 million, and the sequel cleaned up last summer with a worldwide gross of $287 million.
Elizabeth Banks, who directed Pitch Perfect 2, returns to helm Pitch Perfect 3, and Anna Kendrick, Rebel Wilson, and Brittany Snow are all on board to reprise their roles. No reason has been given for the delay.Pitch Perfect 3's former date of July 21, 2017 will now go to Girl Trip, which was originally scheduled for August 11, 2017. Girl Trip's competition in its new slot includes Christopher Nolan's Dunkirk and Luc Besson's Valerian and the City of a Thousand Planets. Directed by Malcolm D. Lee (Barbershop: The Next Cut), Girl Trip follows four longtime friends on a road trip to New Orleans.
As for The Book of Henry, Focus Features has given a September 16, 2016 release date to Trevorrow's new drama. Also opening that weekend are Oliver Stone's Snowden, Adam Wingard's The Woods, and Bridget Jones's Baby. Naomi Watts leads Book of Henry as the single mother of two boys, played by Jacob Tremblay (Room) and Jaeden Lieberher (Midnight Special). The film brings Trevorrow back to smaller-scale drama before he returns to blockbuster filmmaking with Star Wars: Episode IX.