Robert Kirkman's 'Outcast' Will Explore The Whys And Hows Of Demonic Possession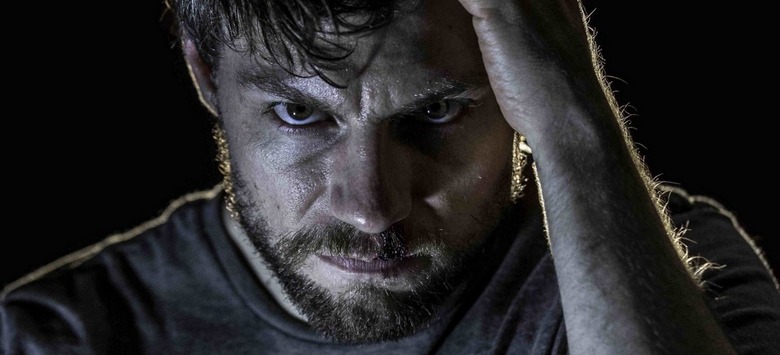 Outcast marks Robert Kirkman's third series on television simultaneously, along with The Walking Dead and its spinoff Fear the Walking Dead. Based on Kirkman's own new comic, the Outcast adaptation on Cinemax, tackles the horror subgenre of demonic possession and exorcisms. Kirkman and showrunner Chris Black gave a roundtable interview with reporters to discuss the new series.
"While we are playing with the tropes of the genre, we are kind of coming at them in a little bit of a different way," Kirkman said. "[We] will be actually exploring, like, what is levitation? Why is that happening? What is the phenomenon that actually causes that? Why are people who are possessed behaving this way? Why don't they like light? Why are they harming themselves in terrifying ways for seemingly no reason. These are questions that you're going to be getting as you watch the show and hopefully getting answers to eventually." 
Patrick Fugit stars as Kyle, a loner under exile both self-imposed and court-imposed (he has a restraining order from his ex-wife) after a family tragedy. Reverend Anderson (Philip Glenister) recruits Kyle to help him perform exorcisms, which might help explain the seemingly inexplicable behaviors Kyle witnessed in his mother. At its heart, the mythology of Outcast still comes from Christianity, and presumably involves Satan, but Kirkman has some surprises in store.
"It just means that we're potentially going to be finding out more about that as we go on," Kirkman teased. "We both have religious upbringings. I have a darkly religious past that I'm not going to talk about, but there's certainly some inspiration drawn from our own lives, things like that. There are religious aspects to this show but I wouldn't necessarily say this is a religious show. We're being true to the region. We're dealing with people that have very strong beliefs. I think we're portraying those characters very respectfully and trying to honor their traditions and way of life. That's a lot of fun to explore."
Kyle and Anderson witness the pain other families suffer when their loved ones are possessed as well. "I think the loss of family trumps everything," Black said. "When you talk about stuff that scares me, stuff that terrifies me, I love genre material. I've always loved genre material. I'll watch any zombie, alien, vampire, werewolf thing hat you put in front of me, but that's fantasy. I'm married. I have two young daughters. To me the single most terrifying thing I can imagine is losing my family."
Possession can be more frightening than monsters, because you still witness someone you love behaving in monstrous ways. "The loss of family is the most terrifying thing a family man can think about," Kirkman said. "The loss of family is at the center of this. The family can still be there but when they're possessed, they're different people and that's very terrifying. I think that's one of the things that's most appealing about this genre is that you can tell very real, very grounded stories in the face of this hugely supernatural phenomenon."
Cinemax has already renewed Outcast for a second season. Kirkman presented the network a plan, as he did when conceiving the comic books. "The network was always aware that we know where we're going with this," Kirkman said. "This is a very involved story and I think they were very confident that we're doing something that's very good. We have a good road map and they like where we're going with it."
While the creator and showrunner are men and the leads of the show are male actors, Outcast is also a very diverse show. There are many women in the writers room and in the cast.
"This is the first time the writer's room this year, there are actually more women than men in the room, which is a great dynamic," Black said. "I think it might be the first show I've ever been on that it was actually more heavily weighted towards women. Phil and Patrick are obviously the leads in the show but we have Wrenn [Schmidt], we have Kate [Lyn Sheil], we have Grace Zabriskie who was spectacular on the show, Julia Crockett who played Sarah Barnes. It's important to us that we have a balance. We introduce Chief Giles' (Reg E. Cathey) wife, who in the second season is becoming a much bigger character than she had initially been established to be. We're trying to tell the story from all perspectives, even though we are actually men and it's the voice we know."
***
Outcast premieres Friday, June 3 on Cinemax.