Teenage Mutant Ninja Turtles: Out Of The Shadows Early Buzz: Better Than The First, But By How Much?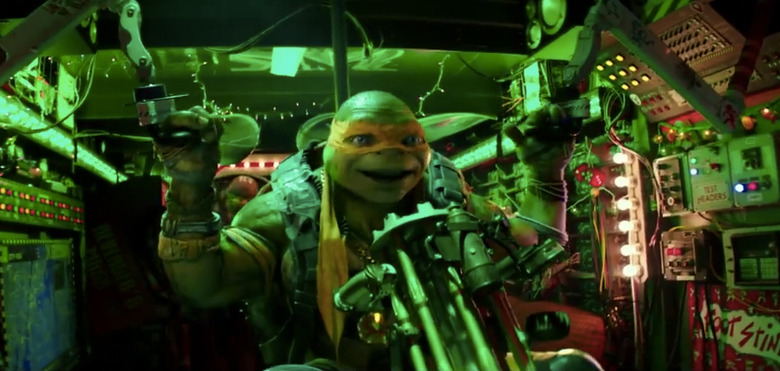 The bevies for Teenage Mutant Ninja Turtles: Out of the Shadows have begun to hit the internet, and so far everyone seems to agree that the sequel is better than the original. But by how much? Lets take a look at some of the  Teenage Mutant Ninja Turtles: Out of the Shadows early reactions.
Matt Edwards from Den of Geek:
Let me be clear; the issues with story in Teenage Mutant Ninja Turtles: Out Of The Shadows are nowhere near as severe as those in Teenage Mutant Ninja Turtles (2014). However, perhaps owing to the number of characters that needed to be set up, there's a charging, chaotic feel to the first half an hour, as we zip from event to event. Even after this, it just doesn't quite hang together... It feels a bit odd giving this film the same star rating that I gave the first (a rating I stand by), as it is miles better. I do think it's a three star film, but it's a three star film that I kind of love. This is why star ratings are rubbish. Teenage Mutant Ninja Turtles: Out Of The Shadows is a big, fun summer blockbuster, and one that Turtles fans are likely to get a massive kick out of.
Martyn Conterio from SciFiNow:
Dave Green's sequel will keep youngsters and nostalgic fans more than entertained, for Teenage Mutant Ninja Turtles: Out of the Shadows is a prime example of undemanding popcorn cinema. It won't change the face of comic-book movies forever – but then it was clearly never intended to do so.
Amon Warmann from HeyUGuys:
At one point in Teenage Mutant Ninja Turtles: Out of the Shadows, one character tells another to "just roll with it". It's a statement that can be applied to the film as a whole, as although the sequel improves on the underwhelming 2014 effort your level of enjoyment will depend on your tolerance for convenient plotting and uninspired villainy... There's definitely fun to be had with Out of the Shadows, but the Teenage Mutant Ninja Turtles sequel fails to maximise the potential of the franchise.
Edmond Tran from Game Spot:
Out of the Shadows is focused and confident in its execution without taking itself too seriously. It trades in nostalgia, but does so in a way that shows admiration for the franchise and its characters, while hitting the balance necessary to make it consistently entertaining for new and returning audiences. It's defined by levity, and brings the spirit of '80s entertainment into present day, prioritising amusement and heart, complete with feel-good moral lessons and a catchy theme tune.
Emma Thrower from Empire Online:
There was little reason to celebrate a sequel to 2014's diabolical Teenage Mutant Ninja Turtles. But surprisingly, Out Of The Shadows is considerably better than its predecessor. At least, that is, for a third of its running time... The slick first third may seem like a different franchise to the turtles' 2014 outing, but Out Of The Shadows soon unravels [with] another bland final act containing yet more people looking up at the sky.
Emma Dibdin from Digital Spy:
Even setting aside the camera's leery male gaze, everything about the film feels half-hearted, from its paint-by-numbers plot to its disengaged cast to its occasional stabs at emotional stakes... A heightened sense of humour probably makes Out of the Shadows a slight improvement on its po-faced predecessor, but it's a loud, bright, brainless mess whose greatest asset is its snappy 112-minute running time.
Mike McCahill from The Guardian:
...assembled with consummate slickness, nominal director Dave Green – following up 2014's semi-heartfelt Earth to Echo – approving many of the right effects shots. Yet only [Michael] Bay could conceive of blowing this much time and cash on identifying the exact spot at which zesty, subversive trash (as the Turtles might once have been) sours into ugly, empty junk, assembled solely to school our young in brute market forces and indiscriminate consumption.
So it doesn't look like they got it exactly right the second time around, but it seems like it may be an overall more enjoyable film. Its hard to get from some of these reviews if the critics didn't like the execution or if they just have distain for the silliness of a movie with mutant turtles who use their ninja skills to save the world from an evil talking alien brain. As a fan of the early comes and the 1990's television cartoon show, the trailers for Out of the Shadows excited me much more than the first film as it looked like a return to the ridiculousness and fun of the animated tv adaptation.