Teenage Mutant Ninja Turtles 2 Gets One-Week IMAX Release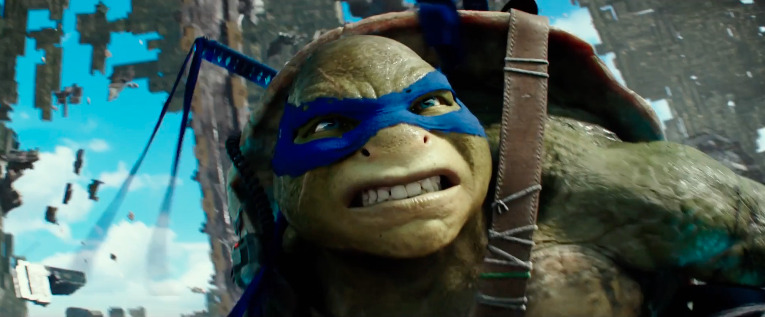 The Michael Bay-produced live-action Teenage Mutant Ninja Turtles sequel hits theaters this week, and the early reviews say the film is better than the previous movie, if by just a little. Seems like Paramount Pictures might believe they have a box office hit on their hands, and today have announced that Teenage Mutant Ninja Turtles: Out of the Shadows will be released in domestic IMAX Theaters for a one week special engagement beginning on Thursday June 2nd 2016 at 5pm. Read the whole press release, after the jump.
The press release for the Teenage Mutant Ninja Turtles 2 IMAX release follows:
PARAMOUNT PICTURES' AND NICKELODEON MOVIES' "TEENAGE MUTANT NINJA TURTLES: OUT OF THE SHADOWS" OPENS IN DOMESTIC IMAX® 3D THEATRES FOR A SPECIAL ONE-WEEK ENGAGEMENT BEGINNING THURSDAY, JUNE 2
HOLLYWOOD, CA (May 31, 2016) – Paramount Pictures, Nickelodeon Movies and IMAX Corporation today announced that "TEENAGE MUTANT NINJA TURTLES: OUT OF THE SHADOWS," the latest installment in the blockbuster franchise, will be digitally re-mastered into the immersive IMAX® format and released in IMAX® 3D theatres domestically for a special one-week run beginning Thursday, June 2 with 5:00 p.m. showtimes.
Additionally, the film will be released in approximately 30 select overseas IMAX markets, beginning Wednesday, June 1 and rolling out to additional markets such as Japan, Taiwan, Brazil and Mexico throughout the summer. The film will open in IMAX 3D in China on July 2.
"'TEENAGE MUTANT NINJA TURTLES: OUT OF THE SHADOWS' is a fun fit for The IMAX Experience® with its larger-than-life effects and high-octane action, and we are pleased to partner again with our long-time friend Michael Bay and the whole team at Paramount in offering this film to domestic audiences in IMAX 3D," said Greg Foster, Senior Executive Vice President, IMAX Corp. and CEO of IMAX Entertainment.
Leonardo, Raphael, Donatello and Michelangelo return to theaters this summer in "TEENAGE MUTANT NINJA TURTLES: OUT OF THE SHADOWS" to battle bigger, badder villains alongside April O'Neil (Megan Fox), Vern Fenwick (Will Arnett), and a newcomer: the hockey-masked vigilante Casey Jones (Stephen Amell). After super villain Shredder (Brian Tee) escapes custody, he joins forces with mad scientist Baxter Stockman (Tyler Perry) and two dimwitted henchmen, Bebop (Gary Anthony Williams) and Rocksteady (WWE Superstar "Sheamus"), to unleash a diabolical plan to take over the world. As the Turtles prepare to take on Shredder and his new crew, they find themselves facing an even greater evil with similar intentions: the notorious Krang.
From Paramount Pictures and Nickelodeon Movies. Produced by Michael Bay, p.g.a., Andrew Form, p.g.a., Brad Fuller, p.g.a., Galen Walker and Scott Mednick. Based on the Teenage Mutant Ninja Turtles characters created by Peter Laird and Kevin Eastman. Written by Josh Appelbaum & André Nemec. Directed by Dave Green. Starring Megan Fox, Will Arnett, Laura Linney, Stephen Amell, Noel Fisher, Jeremy Howard, Pete Ploszek, Alan Ritchson, Brian Tee and Tyler Perry.
The IMAX® 3D release of "TEENAGE MUTANT NINJA TURTLES: OUT OF THE SHADOWS" will be digitally re-mastered into the image and sound quality of The IMAX Experience® with proprietary IMAX DMR® (Digital Re-mastering) technology. The crystal-clear images, coupled with IMAX's customized theatre geometry and powerful digital audio, create a unique environment that will make audiences feel as if they are in the movie.
-
# # #
About Paramount Pictures
Paramount Pictures Corporation (PPC), a global producer and distributor of filmed entertainment, is a unit of Viacom (NASDAQ: VIA, VIAB), a leading content company with prominent and respected film, television and digital entertainment brands. Paramount controls a collection of some of the most powerful brands in filmed entertainment, including Paramount Pictures, Paramount Animation, Paramount Vantage, Paramount Classics, Insurge Pictures, MTV Films, and Nickelodeon Movies. PPC operations also include Paramount Home Media Distribution, Paramount Pictures International, Paramount Licensing Inc., and Paramount Studio Group.
About IMAX Corporation
IMAX, an innovator in entertainment technology, combines proprietary software, architecture and equipment to create experiences that take you beyond the edge of your seat to a world you've never imagined. Top filmmakers and studios are utilizing IMAX theatres to connect with audiences in extraordinary ways, and, as such, IMAX's network is among the most important and successful theatrical distribution platforms for major event films around the globe.
IMAX is headquartered in New York, Toronto and Los Angeles, with offices in London, Tokyo, Shanghai and Beijing. As of Mar. 31, 2016, there were 1,066 IMAX theatres (952 commercial multiplexes, 17 commercial destinations and 97 institutions) in 68 countries. On Oct. 8, 2015, shares of IMAX China, a subsidiary of IMAX Corp., began trading on the Hong Kong Stock Exchange under the stock code "HK.1970."
IMAX®, IMAX® 3D, IMAX DMR®, Experience It In IMAX®, An IMAX 3D Experience®, The IMAX Experience®, IMAX Is Believing® and IMAX nXos® are trademarks of IMAX Corporation. More information about the Company can be found at www.imax.com. You may also connect with IMAX on Facebook (www.facebook.com/imax), Twitter (www.twitter.com/imax) and YouTube (www.youtube.com/imaxmovies).