Star Wars Bits: The Animated Return Of A "Legendary" Character, 'The Force Awakens' Comic Preview, And Some Very Expensive Stormtrooper Armor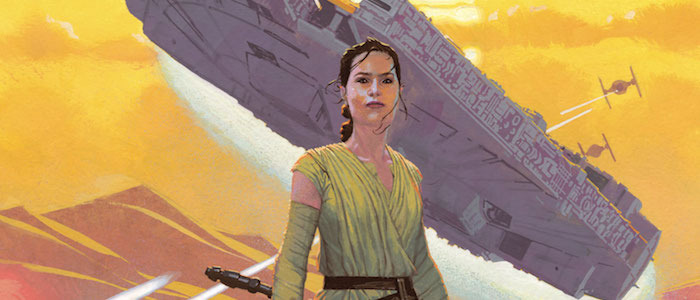 In today's edition of Star Wars Bits:
Take a new look at Marvel's comic book adaptation of Star Wars: The Force Awakens.
Lawrence Kasdan reveals when that Han Solo movie will begin shooting.
Dave Filoni teases the return of a legendary character in Star Wars Rebels.
Daisy Ridley discusses the death of Han Solo.
Star Wars Celebration reveals its full podcast line-up.
Tickets for Star Wars Celebration 2017 are on sale right now.
Is Han Solo the biggest problem with The Force Awakens?
You can now buy some very expensive First Order Stormtrooper armor.
New details on LEGO Star Wars: The Force Awakens revealed.
Check out a new variant cover for Marvel's Han Solo series.
And more!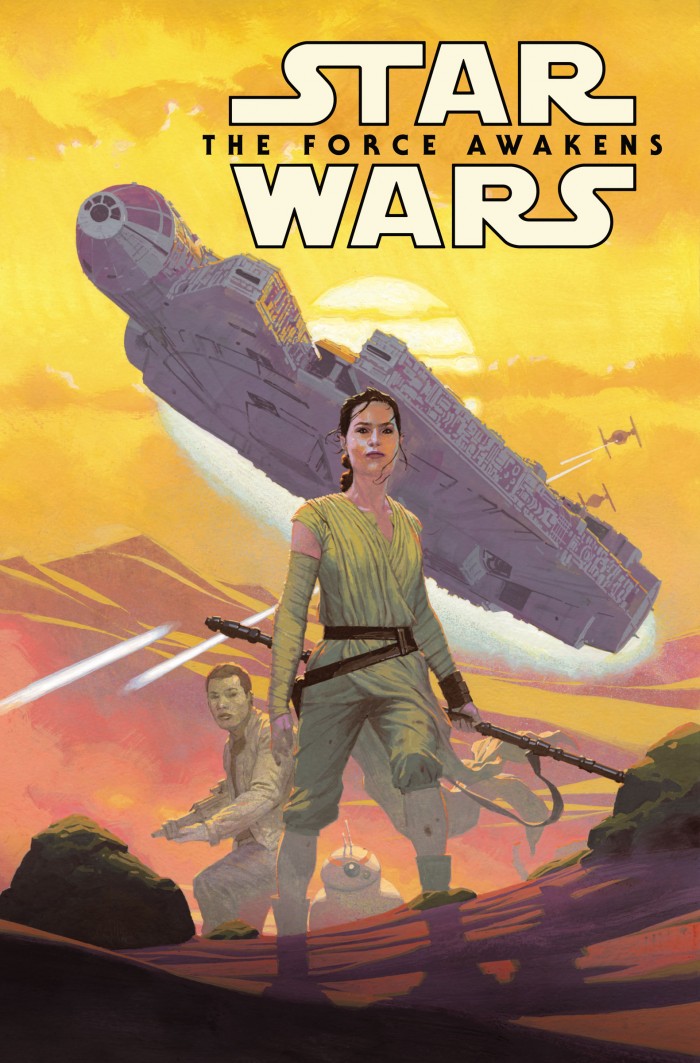 StarWars.com has revealed a few preview pages from Marvel Comics' upcoming miniseries adaptation of Star Wars: The Force Awakens. Written by Chuck Wendig (who also wrote Star Wars: Aftermath) and drawn by Luke Ross, the first issue is set to arrive on June 22. You can check out the pages below. The gorgeous cover seen above is by Esad Ribic, who most recently drew Marvel's surprisingly good Secret Wars event.
Marvel has also unveiled a variant cover for the first issue of the Force Awakens miniseries, this one from the legendary John Cassaday: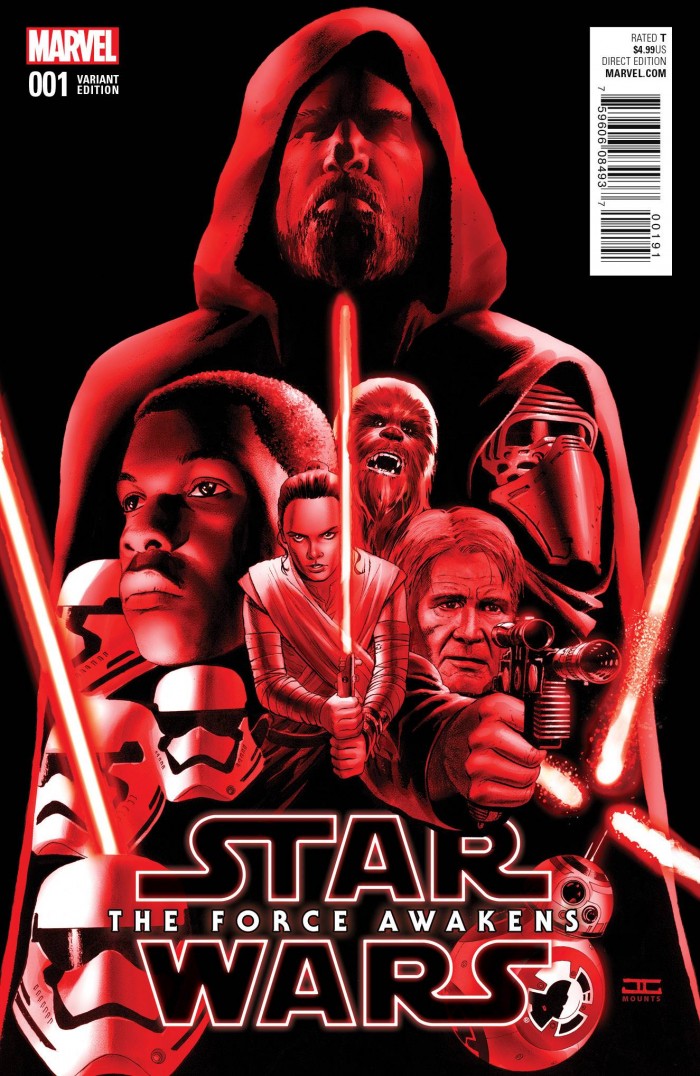 Speaking of Marvel's Star Wars comic books, a new variant cover for the upcoming Han Solo series has been revealed and it will be available exclusively at this year's San Diego Comic Con. This cover is drawn by Emanuela Lupacchino and will be limited to 7,500 copies. Although the series arrives in stores on June 15, fans who want to wait (or don't mind owning two copies) will be able to snag this one in July.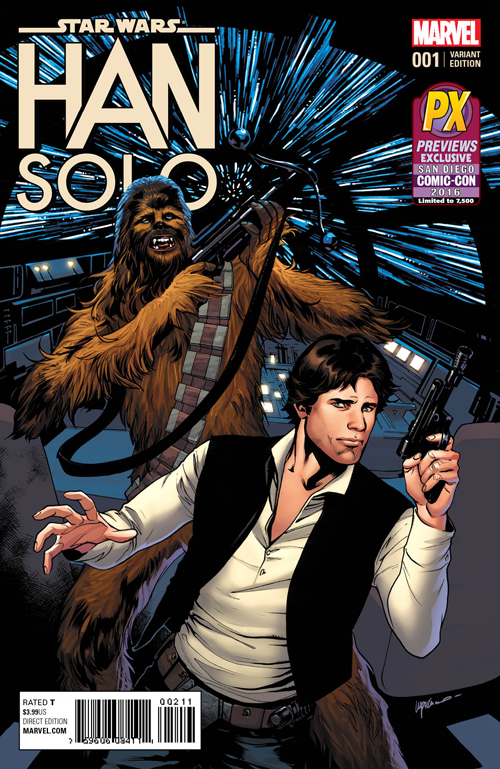 Last month, legendary screenwriter Lawrence Kasdan received the AJFF Icon Award for Contributions to the Cinematic Arts, an event that was immediately followed by a Q&A. Although the full interview tackles his entire career and his views on the film industry, he did chat a little about the new Star Wars movies he has worked on. First, he revealed that the Han Solo spin-off movie that he wrote will begin filming in January:
You know, Chris Miller and Phil Lord are going to direct it. They're great, funny and imaginative and we've had a great time together. My son [Jon Kasdan] and I wrote the script and Chris and Phil are working on it and they're about to move to London to start shooting in January. And it should be fun.
Kasdan also revealed that he was on board to write the Han Solo movie before he was officially one of the screenwriters on The Force Awakens, a move that was very sudden and required a few months of intense rewriting with J.J. Abrams:
I was originally going to just write Han, but I had contracted to be in the story group on Episode 7, which became The Force Awakens. And then there were problems. A wonderful writer, Michael Arndt, just couldn't do the time pressure, and people were being hired in England and it was enormous pressure and he stepped away. We stayed in contact and he's a lovely man, then J.J. [Abrams] and I took over, and now I found myself instead just doing Han and consulting on Force Awakens, we were actually writing Episode 7 together and it happened very fast.
He also deftly dodges any and all details about Episode 8, although he obviously knows more than he is letting on (he considers director Rian Johnson a friend).
I'm looking forward to seeing you all at #SWCE 2016! And remember, there's always a bit of truth in legends. pic.twitter.com/auc6HDDAx1

— Dave Filoni (@dave_filoni) May 28, 2016
Although Disney purged the Star Wars timeline and sent countless characters and stories into the "Legends" ghetto as a way of cleaning up the canon, some of those characters are being given second chances. Star Wars Rebels executive producer Dave Filoni has been hinting at the return of Grand Admiral Thrawn for some time and a recent tweet has only added fuel to the fire. We know that two episodes from the show's third season are set to premiere at this year's Star Wars Celebration and it's starting to seem more and more likely that fans will finally get to see Thrawn, one of the most beloved non-movie characters in all of Star Wars, in the animated flesh.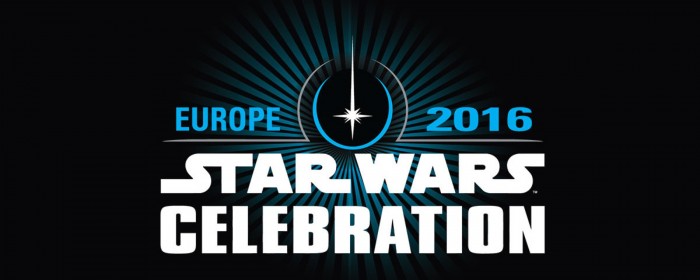 Last year's Star Wars Celebration saw the debut of a dedicated podcast stage, where various shows were allowed to record in front of a live audience. This year's event in London has doubled down on this venue, squeezing fifteen separate Star Wars podcasts into the schedule over three days. StarWars.com has revealed the line-up, which sees the cast of many shows teaming up for various 45-minute slots.
Here's Friday's schedule:
10:30 a.m. – 11:15 a.m.
Full of Sith and Lattes With LeiaOne panel, two podcasts: Prepare to make your first jump to hyperspace with Full Of Sith, the show dedicated to the most interesting Star Wars conversations in the galaxy and then pour a cup of your beverage of choice and take a trip to the galaxy far, far away with Lattes With Leia.1:30 p.m. – 2:15 p.m.Blabba the Hutt and Following The NerdOne panel, two podcasts: Strap yourselves in for the emerald hour! All the way from Dublin, Ireland, it's Blabba The Hutt and joining them are Following The Nerd, the podcast that's bang up to date on all the latest news, reviews, articles, and information across all mediums from games to action figures.3:30 p.m. – 4:15 p.m.Fly Casual and SithLord 229One panel, two podcasts: We're coming in at full throttle with Fly Casual, the podcast that's more than a journey. It's all about our Star Wars lives and YouTube star SithLord229, providing in-depth, HD analysis of some of the coolest Star Wars toys and collectables from across the galaxy!
And Saturday's schedule:
10:30 a.m. – 11:15 a.m.
Star Wars Action News and Star Wars Collectors CastOne panel, two podcasts: There's no such thing as coming in too fast when you have two of the world's premiere collecting podcasts joining forces. We have Star Wars Action News bringing all the latest news and reviews from the Star Wars galaxy. Star Wars Collectors Cast is here covering UK and worldwide collecting.12:30 p.m. – 1:15 p.m.Star Wars Report and Fangirls Going RogueOne panel, two podcasts: Echo Station 3-T-8, we have spotted Imperial walkers and they're bringing two amazing podcasts with them. The Star Wars Report bring us in-depth news coverage from the galaxy far, far away, and joining them are Fangirls Going Rogue, the first Star Wars podcast hosted exclusively by fangirls.4:30 p.m. – 5:15 p.m. Steele Wars
Jumping out of lightspeed too close to the system is Australian comedian Steele Saunders, bringing his unique flavor to Celebration Europe. Steele loves Star Wars and finds people of interest to talk to him about it. We are honored by his presence.
And finally, Sunday's line-up of shows:
10:30 a.m. – 11:15 a.m.
Chive Cast and The Vintage RebellionOne panel, two podcasts: It's the golden hour! The Star Wars Collectors Archive Podcast brings us its knowledge of vintage Star Wars toys and memorabilia and Vintage Rebellion discusses Star Wars toys from yesteryear. WAMPA!! WAMPA!!1:30 p.m. – 2:15 p.m.RADIO 1138 and Take CoverOne panel, two podcasts: We reach the end of our Celebration Europe podcast panel journey for 2016 as RADIO 1138 see out the show with Star Wars news from across the galaxy and Take Cover grab their bookmarks to discuss book, comic, and magazine news.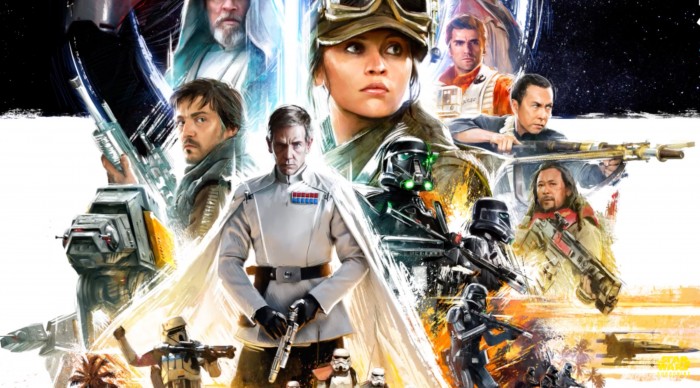 If you're unable to attend Star Wars Celebration in London this year, tickets are on sale for next year's event in Orlando, Florida right now. Single day tickets will cost adults $65-$75 online but will increase to $75-$85 at the door (if they're not sold out). Single day tickets for kids will only cost $35. As always, four-day passes are the best bargain, with adult passes selling for $150 ($170 at the door) and kid passes selling for $70 ($85 at the door). Naturally, you're going to want to act fast if you want to attend.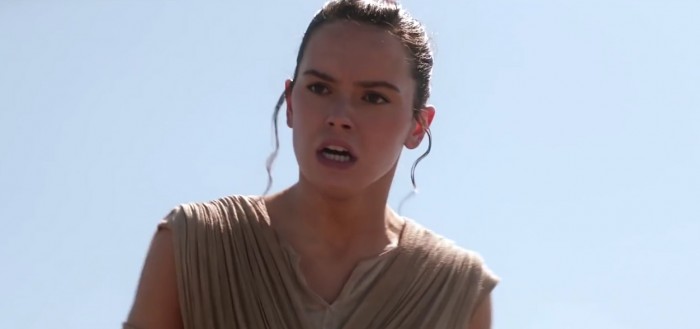 Daisy Ridley is currently deep into filming Star Wars: Episode 8, but she's still fielding questions about Star Wars: The Force Awakens. Today's subject: the death of Han Solo at the hands of his son, Kylo Ren. Speaking with Big Issue, she spoke about how the deaths of beloved fiction characters can often unlock empathy and allow us to connect to other, more serious issues:
People die so awfully every day that if you experienced every grief, the whole world would be a dark, dark place. So many awful things happened last year, and Han Solo dying, which was one of the last moments of the year, is some weird way of people experiencing that. People are weighed down by awful things that are happening and what they see on the news. If everybody puts a piece of themselves into Han Solo and Han Solo dies – in the cinema, where it's dark – you can express it and it alleviates some of the pain. His death is obviously not as important as actual lives that are lost but people probably use it as some kind of carrier for the grief.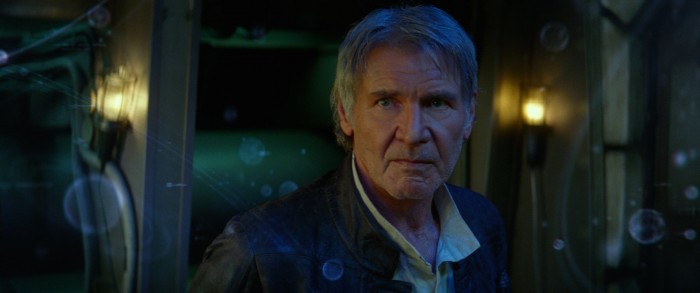 Writer Tony Zhou has written a thoughtful look at The Force Awakens that tackles a subject that may prove controversial among some fans – he thinks that the film would have been improved without the presence of Han Solo. It's no secret that Harrison Ford strongly believed that Han should have kicked the bucket in Return of the Jedi and Zhou argues that the new film is forced to recreate his character arc from that film to reach his big moment:
Unfortunately, that didn't happen, and the result is that J.J. Abrams must spend half of THE FORCE AWAKENS re-building the same emotional ground under Han Solo. That's why Han is back to his factory default setting of "smuggler," why he's escaping again from people to whom he owes money, why he and Leia are separated then reunited, and why he quickly agrees to storm a planet and disable the shield so that fighters can attack the Death Star.
Han Solo is literally, moment by moment, reliving RETURN OF THE JEDI. Because in story terms, he should've died then.
I'm not sure I agree with this particular piece of criticism (I think Han is necessary to bridge the gap between the new characters and the old universe), but the whole thing is worth a read.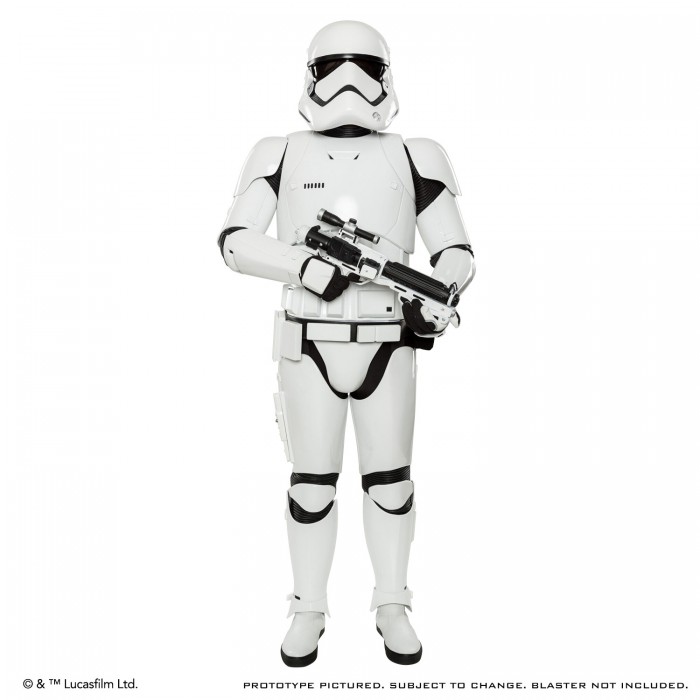 Costuming company Anovos have officially revealed their First Order Stormtrooper outfits and...they're not cheap. The "premiere" version of the armor (a standard version is expected to arrive later this year) will cost you $2,225 for the do-it-yourself assembly kit. A pre-assembled version of the armor will cost you your firstborn child...or $6,915. Naturally, this is intended for serious cosplayers with serious money to burn on their hobby. You know who you are.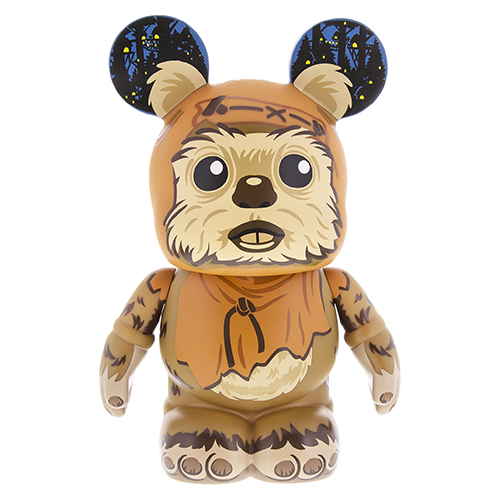 For fans with a slightly smaller budget, there's always this 9" Ewok Vinylmation figure, which is currently available at Disneyland and Walt Disney World for $59.95.
IGN has revealed a new trailer for LEGO Star Wars: The Force Awakens, with this footage focusing on the character of Finn. As is always the case with these LEGO games, this is a lighter and more comedic take on the material, taking a story with its fair share of dark moments and finding ways to make it silly and tongue-in-cheek while also capturing the flavor of the series it is based on. It certainly looks like a fine choice for gamers who find the competitive multiplayer of Star Wars: Battlefront to be too intimidating.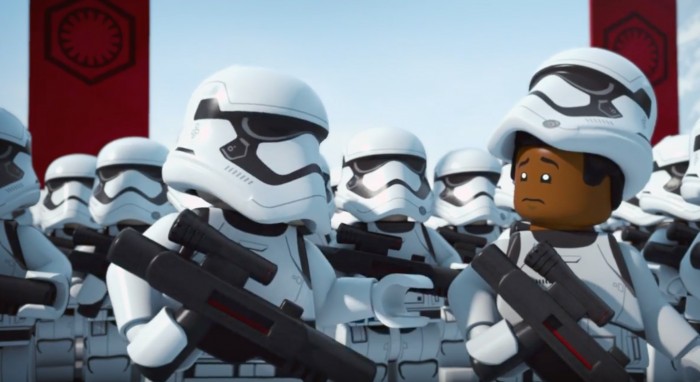 Like any modern video game, LEGO Star Wars: The Force Awakens will be supported with future downloadable content, just in case you can't get enough out of the base game. Each piece of DLC will cost you $2.99, but if you sign up for a season pass on the platform of your choice, you can get everything for $9.99 (which is actually a pretty significant discount).
First up, here are the additional level packs, which will give you access to additional missions (including one that looks to solve one of The Force Awakens' biggest mysteries/plot holes):
Poe's Quest for Survival Level Pack
A whole new adventure following Poe Dameron's journey back to the Resistance base. After his daring escape from the First Order that left him stranded on Jakku, Poe must search for BB-8 and locate a ship to escape the desert planet in an effort to find his way home.
Playable characters and vehicles include: Naka Lit, Ohn Gos, Poe Dameron (Jakku), Strus Clan Leader, Strus Clan Raider, Strus Clan Speeder (Full-size Vehicle), Strus Clan Speeder (Microfighter Vehicle)
First Order Siege of Takodana 

Level

 Pack
Experience the thrilling assault on Maz Kanata's castle in a new way. Storm the shores of Takodana with Kylo Ren and the First Order in a quest to capture Rey and BB-8 to crush the Resistance forever.
Playable characters and vehicles include: Jashco Phurus, Rosser Weno, Strono "Cookie" Tuggs, Thromba, Laparo, Jakku Freighter (Full-size Vehicle), Jakku Freighter (Microfighter Vehicle)
Escape from Starkiller Base Level Pack
After crash landing on the surface of Starkiller Base, join the battle from the perspective of two Resistance pilots. With the help of a loyal astromech droid, outmaneuver the First Order to escape the planet before it explodes. Playable characters and vehicles include: C'ai Threnalli, Colonel Datoo, Lieutenant Rodinon, Lt Wright, R3-Z3, Assault Walker (Full-size Vehicle), Assault Walker (Microfighter Vehicle)
And here are the character packs, which will allow you to add a bunch of new canon-shattering characters to your line-up:
The Jedi Character Pack – Season Pass 

Exclusive

 / Available June 28, 2016
Features powerful members of the Jedi Order. Available exclusively to Season Pass owners.
Playable characters and vehicles include: Aayla Secura, Ki-Adi-Mundi, Kit Fisto, Luminara Unduli, Mace Windu, Plo Koon, Saesee Tiin, Shaak Ti, Jedi Interceptor (Full-size Vehicle), Jedi Interceptor (Microfighter Vehicle)
The Prequel Trilogy Character Pack
Play as select characters from Star Wars: Episode I – The Phantom Menace, Star Wars: Episode II – Attack of the Clones and Star Wars: Episode III – Revenge of the Sith.
Playable characters and vehicles include: Anakin Skywalker (Damaged), Captain Panaka, Darth Maul, Jango Fett, Jar Jar Binks, Padmé Naberrie, Watto, Zam Wesell, Naboo Starfighter (Full-size Vehicle), Naboo Starfighter (Microfighter Vehicle)
The Freemaker Adventures Character Pack
Showcases the galaxy's bravest family of scavengers from the upcoming LEGO animated series, debuting June 20th on Disney XD.
Playable characters and vehicles include: Baash (Iktotchi), Graballa the Hutt, Kordi Freemaker, Naare, Raam (Iktotchi), Roger (Battle Droid), Rowan Freemaker, Zander Freemaker, Star Scavenger (Full-size Vehicle), Star Scavenger (Microfighter Vehicle)
Star Wars: Rebels Character Pack
Play as the crew of the Ghost from the popular Disney XD animated series.
Playable characters and vehicles include: Ahsoka Tano, Chopper, Ezra Bridger, Hera Syndulla, Kanan Jarrus, Sabine Wren, Seventh Sister Inquisitor, Zeb Orrelios, Ghost (Full-size Vehicle), Ghost (Microfighter Vehicle)
The Clones Wars Character Pack
Exciting characters from the acclaimed animated series.
Playable characters and vehicles include: Asajj Ventress, Aurra Sing, Barriss Offee, Cad Bane, Captain Rex, Commander Cody, Hondo Ohnaka, Savage Opress, Republic Gunship (Full-size Vehicle), Republic Gunship (Microfighter Vehicle)
LEGO Star Wars: The Force Awakens hits shelves on June 28, 2016. Here's more info about this game:
The No. 1 LEGO videogame franchise triumphantly returns with a fun-filled, humorous journey based on the blockbuster Star Wars film. In LEGO Star Wars: The Force Awakens, players relive the epic action from the blockbuster film Star Wars: The Force Awakens, retold through the clever and witty LEGO lens. The game will also feature exclusive playable content that bridges the story gap between Star Wars Episode VI: Return of the Jedi and Star Wars: The Force Awakens. LEGO Star Wars: The Force Awakens also introduces Multi-Builds and Blaster Battles to the LEGO videogame universe. With Multi-Builds, use available LEGO bricks to open up new paths, then break them apart and re-build them again to open up another! And another! During Blaster Battles, use your surroundings as cover to stand against the First Order.
If physical LEGOs are more of your thing, a fan-made LEGO set based on the bridge where Darth Vader and Luke Skywalker duel (and learn that they're related) has hit the LEGO Idea Page. If the project attracts enough supporters, this set could become a reality, so if you like what you see in the video above, follow this link to check out additional photos and pledge your support.