Dwayne Johnson Offers A Little Peek At 'Fast 8' And 'Moana'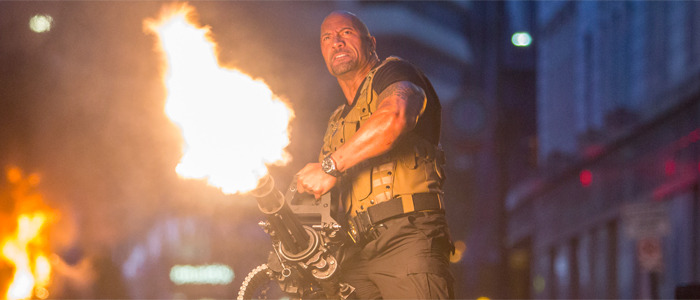 If you're a fan of Dwayne Johnson (and who isn't?) you may already be aware that his Instagram is the best source of updates on any and all Dwayne Johnson-related projects. It's where we got some of our first looks at Central Intelligence and Baywatch, and where we learned Johnson had officially been cast in Shane Black's Doc Savage, and where we once got that amazing photo of The Rock rescuing his puppies from the pool.
Now, Johnson's taken to Instagram to offer a little sneak peek at his work in Disney Animation's Moana, as well as the first photo of his character Luke Hobbs in Fast 8. 
First, here's a brief clip of Johnson's voice work in Moana.
It's my DNA, but hard to explain the "mana" (spiritual power) that comes out when you perform the Haka. Highly intense and emotional and I always need a few minutes to calm down after I do it. I also have to do this last 'cause I blow out my damn vocal chords. ???? ???? This is a small clip from today's work from our new DISNEY animated musical #MOANA This THANKSGIVING. #BloodPumping #Haka #TimeForWar #PolynesianCulture
A video posted by therock (@therock) on
The Haka, which you can see Johnson performing in the video above, is a traditional Polynesian war cry. In Moana, Johnson voices the demi-god Maui, who joins a young princess (Auli'i Cravalho) on her journey to a fabled island in ancient Oceania. Ron Clements and John Musker are directing the film, and worked on the script with Thor: Ragnarok director Taika Waititi. Lin-Manuel Miranda, Opetaia Foa'i, and Mark Mancina wrote the music. Moana hits theaters November 23.
Moving on, here's Johnson as Luke Hobbs in Fast 8.
EXCLUSIVE FIRST LOOK: #HOBBS #F8 When you strip a man of all he has. All that's important to him. You force him to return to his roots.. and sometimes that's a very dangerous and twisted place. If I was going to return for another FAST & FURIOUS I wanted to come in and disrupt the franchise in a cool way that got fans fired up and their blood pumping to see a new version of Hobbs and his "Daddy's gotta go to work" mentality and set the table in a cool way for where the character goes in the future. Maybe it's a spinoff movie. Maybe it's more #FF movies. Or hell maybe Hobbs just gets on his motorcycle and rides off into the sunset never to be seen again. Either way, I've had a solid first week of shooting, good to be back with the ohana, good to work again w/ my bud and director F. Gary Gray and our home studio of UNIVERSAL, as always have been the best partners to me and my #SevenBucksProds team. Most importantly... you guys around the world will really dig this new version of the role, 'cause as we always say, disrupters dent the universe. #Hobbs #TwistedRoots #1Disrupter #1Savage #F8 A photo posted by therock (@therock) on
Johnson's accompanying text hints at the possibility of a Luke Hobbs spinoff, which we've been hearing about on and off for months. There's no denying Johnson's made a huge impression on the Fast and Furious series, and he's certainly got the star power to headline his own Fast and Furious movie. But whatever comes of his latest appearance in the franchise, it'll be fun just to see Luke Hobbs back in action. Though Johnson's really got his work cut out for him if he wants to top the ridiculousness of that "breaking the cast" scene from Furious 7.
Fast 8 arrives in theaters April 14, 2017.