Dwayne Johnson Officially Confirmed As Shane Black's 'Doc Savage'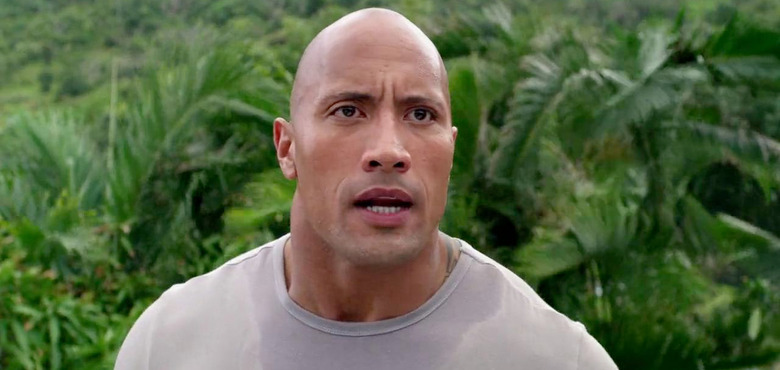 Nearly two weeks ago, Dwayne Johnson teased a new project that would having him teaming up with Iron Man 3 and The Nice Guys director Shane Black in 2017. The project was not specifically named, but since Black is beginning production on his new Predator movie later this year, we assumed that Johnson would be leading the long-gestating big screen adaptation of the pulp hero Doc Savage.
Now we have official confirmation of Dwayne Johnson as Doc Savage thanks to a new Instagram post that features him alongside Shane Black as well as writers Anthony Bagarozzi & Chuck Mondry and producer Hiram Garcia, the vice president of production at Johnson's own Seven Bucks Productions.
Here's the photo Johnson posted to Instagram on Monday:
A photo posted by therock (@therock) on
Along with the Instagram post, Johnson included a lengthy caption that said:
"It's OFFICIAL: For all comic book fans you already know the world's first superhero (pre-dating Superman) is the "Man of Bronze" himself Clark "Doc" Savage.
Comic book fans around the world know that the cool thing about "Doc" Savage is that he's the inspiration for Superman. First name Clark, called "Man of Bronze", retreats to his "Fortress of Solitude" in the Arctic etc etc. Doc was physically and mentally trained from birth by his father and a team of scientists to become the perfect human specimen with a genius level intellect. His heightened senses are beyond comprehension. He can even identify a women's perfume from half a mile away. He is literally the master of everything. But here's the #1 reason I'm excited to become Doc Savage.. HE'S A F*CKING HILARIOUS WEIRDO! Confidently, yet innocently he has zero social graces whatsoever due to his upbringing so every interaction he has with someone is direct, odd, often uncomfortable and amazingly hilarious."
Doc Savage was an iconic character from the 1930s and 1940s who starred in his own books, magazine, comics and radio plays. He's the kind of hero you don't really see anymore who could do anything. Savage was a scientist, explorer, and physician, always saving the day with various gadgets he invented himself. Plus, he was handsome, strong and just plain awesome.
However, the most intriguing part of the character is how weird he is, and Johnson says that he and Black really want to make that part of the character shine. In the Instagram caption he also noted, "After speaking for hours w/ Shane Black I can see why the creator of Superman took only the best parts of Doc Savage and leaving the "weirdo" part behind. But to us, it's that "weirdo" part that makes Clark "Doc" Savage dope! Can't wait to sink my teeth into this one of a kind character."
Knowing what Black did with Tony Stark in Iron Man 3, I can't wait to see what he does with a character who doesn't need to fit into the mold of what Marvel Studios had already created. Doc Savage will allow Black much more freedom to make the movie his own while staying true to the classic character, and the fact that he wanted Johnson for the role from the beginning bodes well for this project.
If all goes well, Doc Savage will start shooting in 2017, and will likely get released sometime in 2018. Otherwise, we'll see Johnson this summer in Central Intelligence, and we'll hear him in Disney's Moana. But right now he's busy on the set of Fast 8. Stay tuned to see how many more projects Dwayne Johnson can get on his plate.