'The Fundamentals Of Caring' Trailer: Paul Rudd & Craig Roberts See Some Lame Landmarks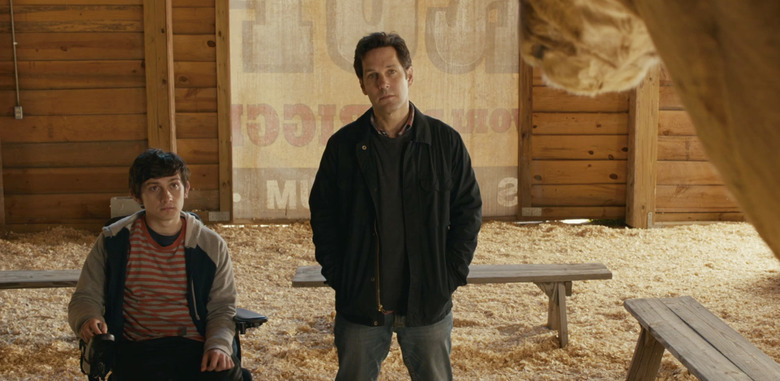 We may receive a commission on purchases made from links.
If Captain America: Civil War didn't give you enough Paul Rudd for the summer, Netflix has the remedy. The streaming service picked up the indie comedy The Fundamentals of Caring from the Sundance Film Festival, and now it's debuting exclusively on Netflix next weekend.
Paul Rudd stars in the adaptation of Jonathan Evison's novel The Revised Fundamentals of Caregiving as a man coming to terms with his divorce and looking to have some kind of value and purpose in life. Enlisting in a new job as a caregiver for those who can't take care of himself, Rudd ends up being assigned to a sarcastic, vulgar 18-year old boy (Craig Roberts), and of course they have plenty to learn from each other. The Fundamentals of Caring trailer has just arrived online, and you can watch it below.
Here's The Fundamentals of Caring trailer straight from Netflix:
Frankly, I found this to be a very poorly cut trailer. While the movie is certainly a bit cheesy and melodramatic, the chemistry between Rudd and Roberts makes the road trip well worth taking as director Rob Burnett tackles some dark comedy here. The movie absolutely has some expected Sundance tropes, but the cast absolutely elevates to be something thoroughly enjoyable and moving. Here's what I wrote in my review from Sundance back in January:
"The pieces of this story could have easily made for a cliched, made-for-TV movie. Both of these guys are paralyzed in their own way. We get it. But it's the boundless charm and comedic presence of both Rudd and Roberts together that makes this work better than it could have been, resulting in  a charming and hilarious (often darkly so) road trip that is delightful and a bit salacious at the same time."
In addition, Selena Gomez turns in a solid performance as a hitchhiking girl who is lost in her own way. She's feisty, funny and continues to go against the grain of her former Disney Channel image, and hopefully she'll find the kind of success that Zac Efron has by doing the same thing.
Ben is a retired writer who becomes a caregiver after suffering a personal tragedy. After 6 weeks of training, Ben meets his first client, Trevor, a foul-mouthed 18-year-old with muscular dystrophy. One paralyzed emotionally, one paralyzed physically, Ben and Trevor take an impromptu road trip to all the places Trevor has become obsessed with while watching the local news, including their holy grail: the World's Deepest Pit. Along the way, they pick up a sassy runaway and a mother-to-be who help test the pair's survival skills outside of their calculated existence as they come to understand the importance of hope and true friendship.
The Fundamentals of Caring hits Netflix on June 24.