Cool Stuff: Kevin Tong's Two 'Warcraft' Prints Are Now Available To Purchase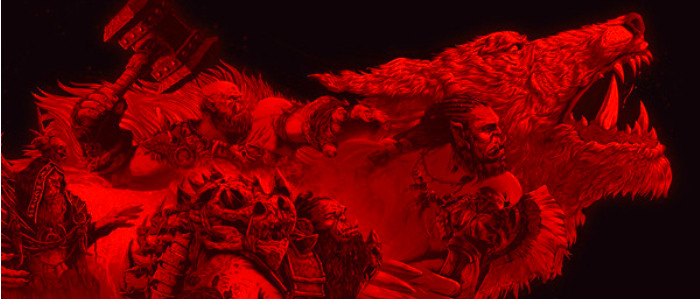 Director Duncan Jones' adaptation of Blizzard's World of Warcraft opens in theaters two weeks from today. Unfortunately, the initial reviews for Warcraft are mostly negative. In spite of the early critical reaction, so far the fantasy film is exceeding expectations at the foreign box-office. Warcraft is expected to make over $30M overseas this weekend, making more money than Alice Through the Looking Glass in some territories.
We'll soon see how the film fares domestically, but in the meantime, Legendary Pictures has released two Warcraft prints made by Kevin Tong, who's collaborated with the production company in the past.
The first print, mostly depicting the humans, was originally made for a comic book prequel, "Warcraft: Bonds of Brotherhood," written by Paul Cornell and featuring art from Matt Broome. That poster is now available to purchase, but you have to buy it as a set, which costs $80. The posters show both sides of the film–the Horde and the Alliance.
Tong has put together some fantastic prints in the past, including posters for The Matrix, Gravity, and, perhaps his most impressive work–which is saying a lot–Mulholland Dr.
Here are the two Warcraft prints and official details:
The Legendary Art Series is proud to announce our fourth print release in a stunning collaboration with artist Kevin Tong for the upcoming film Warcraft directed by Duncan Jones.
A pair of 18x24" 3 colour screen prints, exclusive to the Legendary store and limited to an edition of 195 with matching hand numbering and embossed with our official Art series stamp on Neenah Epic Black paper.
A Certificate of Authenticity is also provided, signed by the artist.
Expertly printed with metallic inks by D&L using hand mixed colors, quality techniques and materials. Shipped by Posters & Toys.
Please note, this series is only available as a set of 2 prints.
The set is available at Legendary Pictures' online store. The Horde print has a more sinister design–and maybe it's just because of the use of red–that doesn't feel entirely right for the orcs since there's some moral ambiguity on both sides of the war. They're technically the antagonists of the film, but the Horde isn't without its heroes. It's also a little disappointing there wasn't room for Durotan's (Toby Kebbell) wife, Draka (Anna Galvin), but since she doesn't participate in the battles, her exclusion makes some sense.
If you're curious about Tong's process, he often releases behind-the-scene videos on his YouTube page.