Rumor: Rosa Salazar Will Suit Up As 'Alita: Battle Angel' For Robert Rodriguez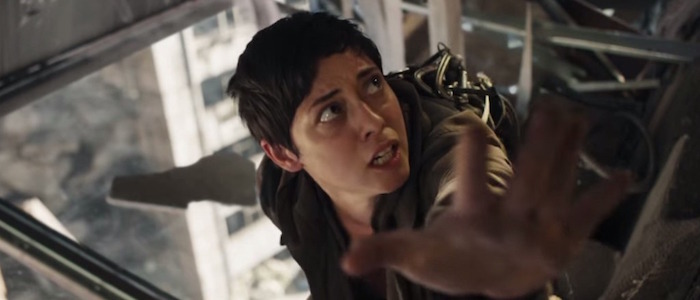 Movie fans with long memories may recall that Alita: Battle Angel was once known as Battle Angel Alita and that it was supposed to be James Cameron's next film after Avatar. Then Cameron decided to make Avatar movies until the day he dies and the Hollywood adaptation of the popular manga was handed over to director Robert Rodriguez last year. Now, after years of existing primarily as the second-to-last question in James Cameron interviews, this project is finally starting to take shape. If the latest report is to be believed, we'll see Rosa Salazar in Alita Battle Angel.
The scoop arrives on the internet courtesy of Collider, who say that Salazar has emerged as the leader of the pack, beating out competition from Maika Monroe (It Follows), Zendaya (Spider-Man: Homecoming),  and Bella Thorne (The Duff).
Although Salazar has been working steadily in film and television since 2010 or so, starring in films like Insurgent and The Maze Runner: The Scorch Trials. She recently wrapped production on the big screen version of CHiPs and will return for The Maze Runner: The Death Cure. She's been keeping busy, but Alita: Battle Angel is the kind of project that could transform her into a major name under the right circumstances.
Alita: Battle Angel is expected to follow the basic plot of Yukito Kishiro's original series, which told the story of a scientist who discovers a partially destroyed and amnesiac cyborg in a scrapyard. Once back on line, she becomes a bounty hunter, using her unique abilities to take on criminals. Naturally, she also finds time to investigate her past and attempt to discover where she came from and how she ended up in a dump.
I sincerely hope this film is a return to form for Robert Rodriguez, who hasn't made a good film since 2007's gleefully disgusting splatter adventure Planet Terror. Since then, he's made movies like Shorts, Machete, Spy Kids: All the Time in the World, and Sin City: A Dame to Kill For, a list that doesn't inspire a great deal of confidence. However Cameron is still on board as a producer and it's hard to imagine the infamously hard-edged perfectionist behind Titanic, Aliens and The Terminator allowing Rodriguez to phone this one in. Working directly with Cameron may be the intervention Rodriguez needs to get back on track as a filmmaker.
If Rosa Salazar has indeed been cast, we should start hearing more about Alita: Battle Angel soon.