Cool Stuff: 'Star Wars: The Force Awakens' Vinyl Soundtrack Has Holograms On It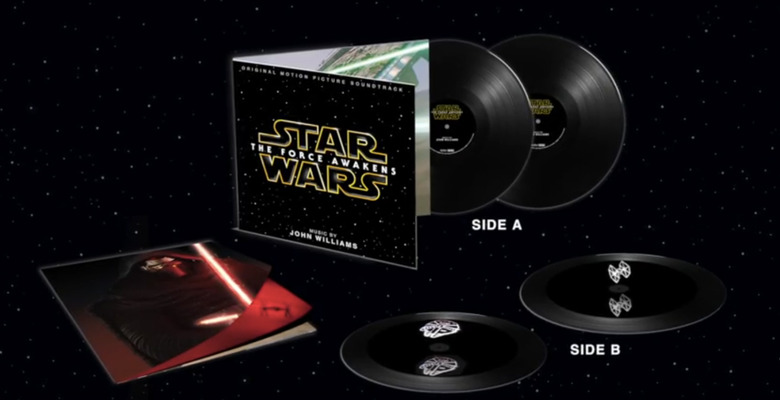 We may receive a commission on purchases made from links.
Even though John Williams' score for Star Wars: The Force Awakens has been available to fans since the film hit theaters late last year, a vinyl version of the soundtrack wasn't available until this year. While there are a couple versions available out there for purchase right now, Walt Disney Records has a special edition vinyl release that will be available in June that is extremely cool.
The double LP release of the Star Wars: The Force Awakens score has hand etched holograms created by Tristan Duke of Infinity Light Science that can be seen when the record is spinning and the right light is shined above it. You can see The Force Awakens vinyl hologram in action after the jump.
Here's a video showing the Star Wars: The Force Awakens vinyl hologram from Walt Disney Records:
The vinyl hologram effect is something that Tristan Duke did for Jack White's "Lazaretto" album when it was released on vinyl. But of course, these are much cooler because the holograms are of the Millennium Falcon and a TIE Fighter on two different sides of each disc.
In addition to the cool hologram, the double LP release comes with a 16-page booklet. But the real treat will be listening to John Williams' awesome score in one of the best possible music formats. That may sound like a hipster thing to say, but you can't go wrong with a vinyl soundtrack like this.
The Star Wars: The Force Awakens vinyl release will be available from Disney's Music Emporium and Amazon starting on June 17th. However, for this special edition version of it, you'll have to fork over $47.99. If that's a little too expensive for your taste, but you still want the score on vinyl, you can buy a picture disc version of it for just $34.98 right now.