LOL: Watch T.J. Miller's Alternate Stephen Tobolowsky Insults From 'Silicon Valley'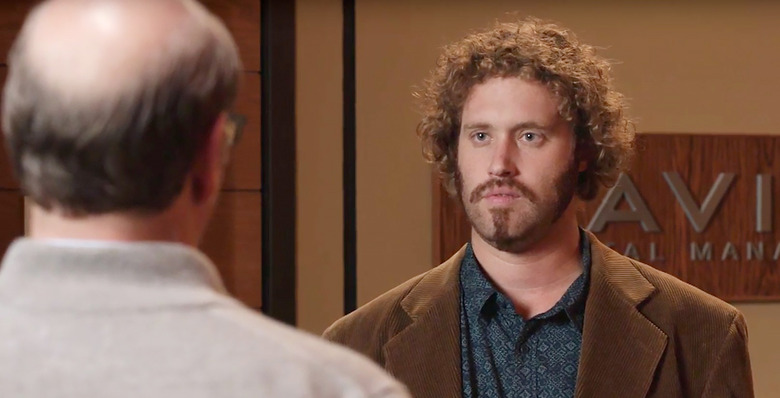 One of the staples of comedy releases on home video is a special feature that contains a reel of alternate jokes and lines from various scenes. They're called "line-o-ramas" on home video releases for movies from the likes of Judd Apatow, Adam McKay, and Seth Rogen & Evan Goldberg, but we usually don't get to see this same practice from television shows. That changes today though.
On HBO's comedy Silicon Valley, series regular T.J. Miller is known for delivering some pretty brutal insults by way of his character Erlich Bachman. The arrogant partial owner of Pied Piper recently dished out a perfect string of age-based insults when meeting his new boss, "Action" Jack Barker, played by friend of the site Stephen Tobolowsky. But what we saw in the final cut was only a small fraction of what Miller threw out there while they were shooting. Thankfully, a slew of alternate takes has been made available online for you to watch right now.
Here's the Silicon Valley alternate takes from the season premiere a few weeks ago:
T.J. Miller has been a stand-up comedian for years, getting his start in Chicago before he started taking roles in major motion pictures like Cloverfield, She's Out of My League and this year's runaway hit Deadpool. He's a skilled improviser, a quick wit, and once he turns it on, there's no stopping him. My personal favorite is "unlimited breadsticks or similar valued deals."
Even more impressive than the string of insults themselves is how T.J. Miller and Stephen Tobolowsky are able to keep straight faces throughout many of these alternate lines. However, that appears to just be the editing of this particular video, because Miller notes that both he and Tobolowsky broke character and laughed a few times. But the latter is very professional on set and rarely broke while he was on camera.
As you can see in the video, the editors of the show had 75 different options to work with, and that might not even be all of them. According to Entertainment Weekly, it got to the point that the producers had to stop them from shooting any more material, despite how funny it was. This consistently happens on Judd Apatow's movies, which can be difficult because he likes to shoot on film, making the time spent shooting all the more expensive. But at least we get to see that kind of material now so we can share in the laughs too.