AMC's 'Preacher' Pilot Gets Audio Commentary From Seth Rogen & Evan Goldberg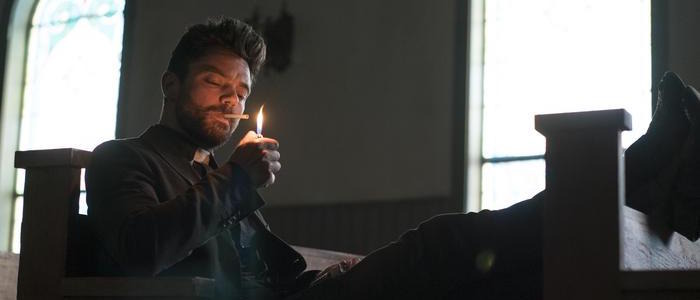 "We were very concerned about our budget on this show, and how good our visual effects would be," co-director and executive producer Seth Rogen says at the start of the Preacher audio commentary, as he discusses the opening scene set in space. "We said, 'Let's not even try to make it look like good visual effects; let's make it look like visual effects from 1967, so this is what we came up with." Only days after the series' excellent pilot aired, Rogen and co-director Evan Goldberg's commentary for the Preacher pilot–which performed well in the ratings Sunday night–has been made available online.
Learn a few facts from the Preacher audio commentary below
For almost a decade, the directing duo had been wanting to adapt Garth Ennis and Steve Dillon's comic book series. Collaborating with Breaking Bad producer Sam Catlin, Goldberg and Rogen finally got to bring the long-in-the-works adaptation to life. Without even first meeting with Catlin, they agreed to let him run the series; his work on Breaking Bad was enough to convince them. "If we don't get along, it'll be worth it, because he made Breaking Bad," Goldberg explains.
The commentary, which you can listen to on AMC's website, is full of a wide range of facts about the pilot:
Goldberg and Rogen had to "fight" for Jesse Custer's black jacket. They also attempted to make the preacher's hair messier, as it is in the comics, but they couldn't find a way to lessen Dominic Cooper's perfect hair.
The pilot was shot by cinematographer Bill Pope (Scott Pilgrim vs. the World), who Rogen worked with when he was 16 on Freaks & Geeks.
Initially, there were more fantasy sequences in the pilot and the show. When Jesse talks to young Chris (Thomas Barbusca) about confronting his father, Donnie, it was cut to "cool, comic book-style images of Jesse beating up people." They cut the sequence, believing it would build more momentum in the pilot and make the actual fight more satisfying.
Sam Catlin has a voice cameo in the pilot.
Goldberg and Rogen wanted each character and storyline to have "its own look, own lighting style, and own camera style."
The directors were intent on challenging themselves. The budget limitations helped in that regard, forcing them to get more creative. Rather than using a huge crane or a helicopter for establishing shots of Annville, Texas, they efficiently set up the town's desperate but comical atmosphere with a few simple but effective shots, cut to Willie Nelson's "Time of the Preacher"–another reference to the comic book series.
Preacher returns to AMC on June 6th.