'Wiener-Dog' Trailer: Todd Solondz's 'Welcome To The Dollhouse' Follow-Up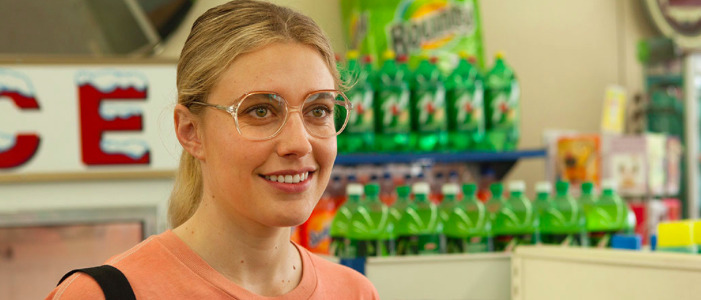 Todd Solondz is back to check in on Welcome to Dollhouse's Dawn Wiener, now played by Greta Gerwig in the writer/director's newest film, Wiener-Dog. The semi-sequel premiered at the Sundance Film Festival earlier this year, where it was reviewed positively by critics. In addition to Gerwig, the dark comedy stars Ellen Burstyn, Kieran Culkin, Julie Delpy, Danny DeVito, Tracy Letts, and Zosia Mamet.
Below, watch the Wiener-Dog trailer.
Financed by Megan Ellison's Annapurna and Christine Vachon's Killer Films, Wiener-Dog will be released by Amazon Studios and IFC this summer. Solondz's latest work isn't the first time he's revisited past characters of his, although this is, I believe, the first dead character he has resurrected. The director's 2004 picture, Palindromes, opens with Dawn Wiener's funeral. The character, who was first played by Heather Matarazzo, committed suicide.
Taking place 20 years after Welcome to Dollhouse, Dawn Wiener has returned for this ensemble piece, and she still appears to be her same old awkward self–a bit older but, maybe, not so much wiser.
Here's the Wiener-Dog trailer (via The Film Stage):
Solondz, whether you enjoy his sometimes polarizing work or not, isn't afraid to go to some dark, uncomfortable places, but Wiener-Dog comes across as a slightly more kind-hearted story of his, which is saying a lot, considering Ellen Burstyn's character, Nana, names the wiener-dog "cancer." The director often takes actors to new places with his films. We don't see too much of playwright and actor Tracy Letts in this trailer, but that opening shot of him, furious at his wiener-dog, makes me look forward to what Solondz does with the man, who's responsible for Killer Joe, August: Osage County, and Bug.
Here's the official synopsis:
tFrom director Todd Solondz (WELCOME TO THE DOLLHOUSE, HAPPINESS), WIENER-DOG is a dark, starkly funny story of a single dog and the many different people she touches over her short lifetime. Man's best friend starts out teaching a young boy some contorted life lessons before being taken in by a compassionate vet tech named Dawn Wiener. Dawn reunites with someone from her past and sets off on a road trip. After leaving Dawn, Wiener-Dog encounters a floundering film professor, as well as an embittered elderly woman and her needy granddaughter—all longing for something more. Solondz's perversely dark comedy offers an appallingly honest look at the American experience, brought to life by its all-star cast.
Wiener-Dog opens on June 24th.