New 'The Little Prince' Trailer Arrives With A Netflix Release Date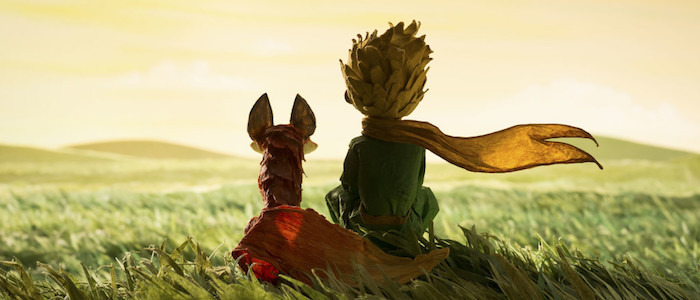 Despite being a critically well-regarded international hit with a recognizable line-up of voice talent that took home the Best Animated Feature Film trophy at the César Awards, earlier this year, The Little Prince has hit a few speed bumps on its way to American theaters. Originally scheduled for release on March 18, 2016, Paramount abruptly pulled the film from its schedule on March 11, with no explanation given. Netflix, with its seemingly bottomless bag of "Screw You, We're Netflix" money, swooped in and rescued director Mark Osborne's film.
Now, the streaming service has unveiled a new The Little Prince trailer along with a release date.
The Little Prince is a loose adaptation of the 1943 novella by writer and illustrator Antoine de Saint-Exupéry, which has sold over 140 million copies in 250 languages since its initial publication. The film version takes the plot of the book – a stranded aviator encounters a young boy who claims to have journeyed from his home on a distant asteroid – and weaves it into a larger plot about a modern girl befriending her elderly neighbor and escaping her overbearing mother while surely learning a valuable life lesson or two.
The modern day segments look like a fairly standard CG-animated film, but the actual segments revolving around the original Little Prince story are done with stop-motion animation that recalls Antoine de Saint-Exupéry's original art. They look nothing short of gorgeous.
Here's the new trailer, which also reveals that the film will arrive on Netflix on August 5, 2016:
The sprawling voice cast for The Little Prince includes Mackenzie Foy, Jeff Bridges, Rachel McAdams, Riley Osborne, Paul Rudd, James Franco, Marion Cotillard, Benicio del Toro, Paul Giamatti, Bud Cort, Albert Brooks, and Ricky Gervais.
One of the things I enjoy most about Netflix as a company is just how unpredictable they have become. While I continue to bemoan how they've let their movie library slide, their original content and the movies they actually purchase have been consistently interesting and worthwhile. Most Hollywood studios would have turned away from a movie as tough as Beasts of No Nation and even more studios wouldn't embrace documentaries like the king of the streaming services has over the past few years. Now that they have acquired their first major animated movie, it really feels like all bets are off for Netflix.
Here's the official synopsis for The Little Prince:
A little girl lives in a very grown-up world with her mother, who tries to prepare her for it. Her neighbor, the Aviator, introduces the girl to an extraordinary world where anything is possible, the world of the Little Prince.