Experience 'Feast' Director Patrick Osborne's New Animated Short 'Pearl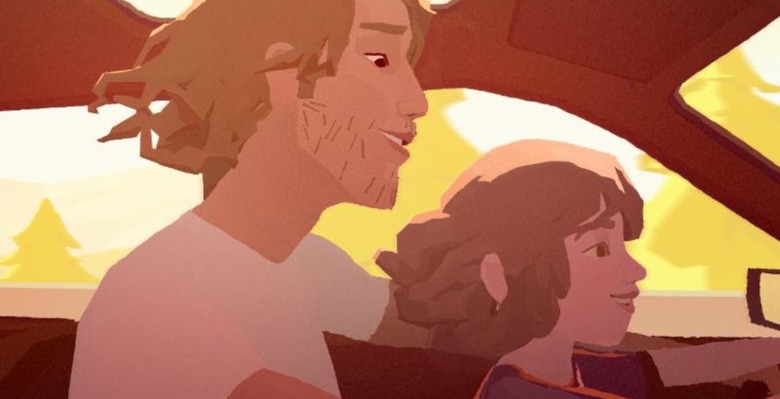 One of my favorite Disney Animated films of all time is Patrick Osborne's short film Feast, which was released theatrically in front of Big Hero 6 and won an Academy Award. Well Osborne has already released his follow-up, although most people haven't seen it yet because he created it for Virtual Reality. But thanks to Google 360, you can now watch it online in any browser, although you still can rotate the video around to look in any direction.
Patrick Osborne's new film is titled Pearl, named after the character at the center of this story.  While the animation is a bit more gritty than the short that won him an Oscar, it doesn't skimp on heart. While Feast showed us a relationship between a man and his dog through the food they eat and shared, this short shows us the beautiful relationship between a daughter and a father through the lends of a car.  Here is the official description from YouTube:
"Set inside their home, a beloved hatchback, Pearl follows a girl and her dad as they crisscross the country chasing their dreams. It's a story about the gifts we hand down and their power to carry love. And finding grace in the unlikeliest of places."
Pearl features music by Alexis Harte & JJ Weisler. Pearl is one of the first interactive 360 Google Spotlight Stories videos, making its big debut during the recent Google I/O conference.
I really enjoyed this VR short film but I'm still a bit skeptical that VR is a medium for filmmaking. I don't believe a short like this is any better in VR than it would have been if Patrick had animated it traditionally, choosing the framing from shot to shot. For me those choices are one of the biggest tools in the emotional experience of a cinematic story.
I share Steven Spielberg's viewpoint that film works in the way it does because of the filmmaker controls what you see, and how you see it. Giving the user control of where to look takes away from the narrative. And sure, you can use trickery to get the audience to look in one direction in a VR short, but to me that just feels more like a gimmick as the rest of the 360 world contributes very little to the story.
Not to say VR isn't a technology for storytelling, I think it will be great for interactive storytelling like we already see in video games today. Personally I'm more interested in the experiential promises of the technology.