'Ghost In The Shell' Adds 'Wolverine' Star Rila Fukushima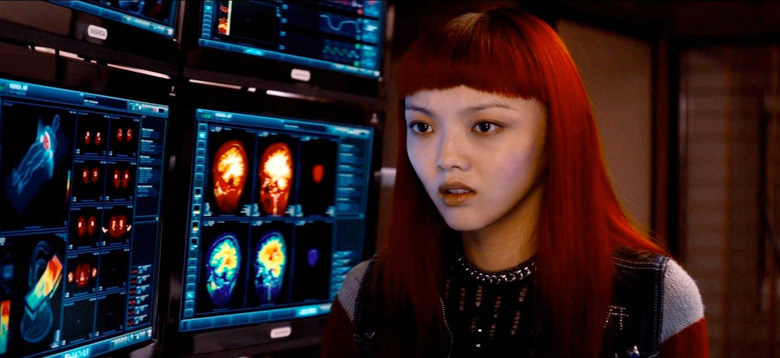 DreamWorks adaptation of the anime Ghost in the Shell has come under fire for whitewashing by casting Scarlett Johansson in the lead role as Kusanagi, a cyborg that is a part of an elite cybercrime-fighting task force known as Section 9. However, there will be some Asian talent on board the project in key roles in a poor attempt to heal the wounds left by this increasingly annoying method of casting.
Takeshi Kitano has already been brought in to play Daisuke Aramaki, the chief of Public Security Section 9. Now Japanese actress Rila Fukushima, who had her breakout role as Yukio in The Wolverine back in 2013, has come on board. More below.
The casting of Rila Fukushima in Ghost in the Shell is a welcome one for fans who were disappointed in the lack of roles for Asian actors, but there's no specifics from The Hollywood Reporter's story regarding which character she will be playing.
Though Fukushima had a big role in The Wolverine, her career on the big screen hasn't evolved much since then. It's hard to tell if that's simply because of the lack of good roles for Asian talent in Hollywood or if because she doesn't seem to be all that gifted of an actress (in my opinion). But Fukushima has found a good gig as Tatsu Yamashiro/Katana on The CW series Arrow.
Fukushima joins a cast that also includes Michael Pitt (Boardwalk Empire) as the villain known as The Laughing Man, a bitter and vengeful man with a body that is part robot. He has a unique sense of style and has been described as a bad guy filtered through the lens of a street artist. That sounds like a hipster villain to me, so maybe he throws vinyl records as his weapon. Just kidding, a hipster would never risk damaging their record collection.
In addition, Scarlett Johansson's Lucy co-star Pilous Asbæk is on board the project as Kusanagi's right-hand man Batou. Meanwhile, the rest of the cast includes Juliette Binoche (Godzilla, Certified Copy) as Dr. Ouelet, Kaori Momoi (Memoirs of a Geisha), Chin Han (Independence Day: Resurgence), Sanusia Samal (Tyrant), Lasarus Ratuere (Terra Nova), Yutaka Izumihara (Unbroken) and Tuwanda Manyimo (The Rover).
Ghost in the Shell is being directed by Snow White and the Huntsman director Rupert Sanders and production is underway in New Zealand right now with a script from Straight Outta Compton scribe Jonathan Herman. The film is set for release on March 31, 2017.