Big Trouble Remake With The Rock Still In The Works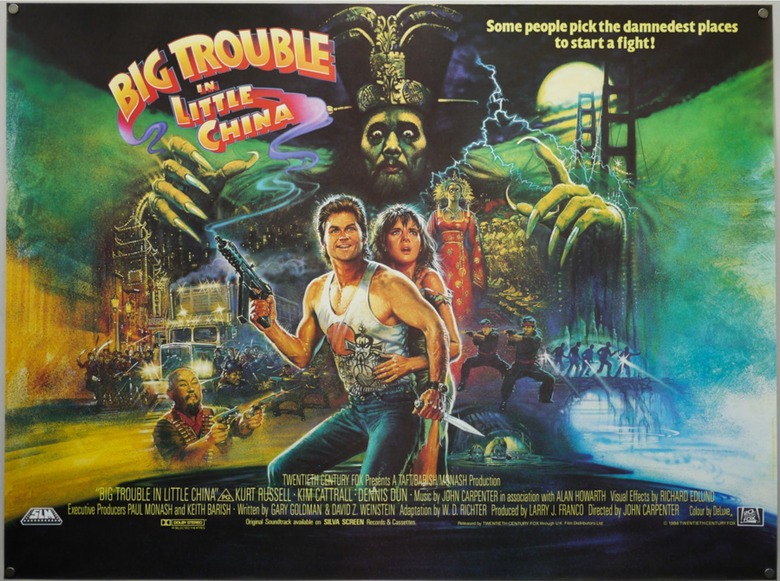 A year ago we learned that The Rock would be starring in a big screen remake of Big Trouble In Little China, but we haven't heard much about it since then. Sometimes when you don't hear about a film project for a long time you just assume that it could have fallen into development heck. I thought this might be the case with The Rock's Big Trouble remake, especially since the action star keeps getting attached to so many new projects, like the Jumanji remake and the Robert Ludlum cinematic universe. I mean, how much time does this man have?
But according to Dwayne Johnson, the film is still in the works. Find out what The Rock said, after the jump.
Fandango caught up with Dwayne "The Rock" Johnson while he was promoting his new film Central Intelligence (in theaters June 17) and asked him if the Big Trouble remake is still happening.
"That's happening, man! That's happening, that's happening. And again, that's one of those things where you gotta take really good care of it."
Okay, so not much of an update, but it seems like its still in the works. I'm still not sure Big Trouble in Little China needs a remake but I was really happy with what the guys at Fox have done with the Planet of the Apes franchise and I'm always down for seeing The Rock in action on the big screen.
Earlier this year, original Big Trouble in little China star Kurt Russell was asked how he felt about the remake by the guys at Collider, and here is what he had to say:
I guess it's that time now. Hey, you know, nothing's sacred. Why not? Go get it, good luck. ... I don't know what their reasons are for remaking the movie, but I hope that they have the right reasons, and I hope that they do it well and good luck. What can I say? I don't know, I don't have thoughts other than that. Hang in there, good luck, go get em.
We know that 20th Century Fox owns the rights to the movie franchise and John Carpenter has publicly said that he is not involved with the remake in any way. Last we heard the remake was to be written by Ashley Miller and Zack Stentz (X-Men: First Class) and will star Johnson as Jack Burton, "an All-American trucker who gets dragged into a centuries-old mystical battle in San Francisco's Chinatown." Stay tuned for more soon.