'The Infiltrator' Trailer: Bryan Cranston Goes After Pablo Escobar's Drug Cartel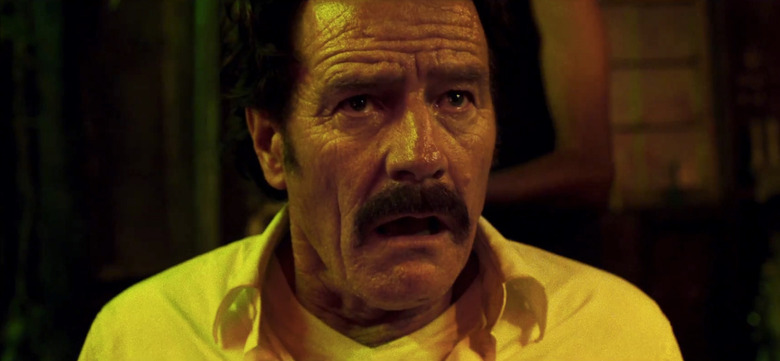 After becoming one of the most intimidating meth dealers we've ever seen, Bryan Cranston is now on the other side of the law, chasing down one of the most notorious drug dealers in history. The Infiltrator tells the story of the federal agent who went undercover as a money launderer in order to take down Pablo Escobar's infamous drug trafficking empire back in 1986. A new trailer for the crime thriller has just arrived, and it looks like a refreshing bit of counter-programming to the usual blockbuster fare that arrives during the summer.
Watch The Infiltrator trailer after the jump.
Even though this feels like your run of the mill crime thriller, Bryan Cranston looks like he'll elevate the material to be something fairly gripping. Plus, he's got the sorely underrated John Leguizamo by his side to sweeten the deal along with Diane Kruger as a rookie agent brought in to play Cranston's undercover wife.. Benjamin Bratt also seems to have found a sweet spot by playing key players in crime rings since he's done that in both Ride Along 2 and Snitch.
The Infiltrator is directed by Brad Furman, director of The Lincoln Lawyer and the forgotten gambling thriller Runner Runner. Even though the latter film didn't offer anything worth writing home about, his other turn behind the camera was a solid drama. Hopefully this one will be worth checking out this summer.
If you'd like to see more from The Infiltrator, watch the first trailer right here.
Based on a true story, Federal agent Robert "Bob" Mazur (Bryan Cranston) goes deep undercover to infiltrate Pablo Escobar's drug trafficking scene plaguing the nation in 1986 by posing as slick, money-laundering businessman Bob Musella. Teamed with impulsive and streetwise fellow agent Emir Abreu  (John Leguizamo) and rookie agent posing as his fiancé Kathy Ertz (Diane Kruger), Mazur befriends Escobar's top lieutenant Roberto Alcaino (Benjamin Bratt). Navigating a vicious criminal network in which the slightest slip-up could cost him his life, Mazur risks it all building a case that leads to indictments of 85 drug lords and the corrupt bankers who cleaned their dirty money, along with the collapse of the Bank of Credit and Commerce International, one of the largest money-laundering banks in the world.
The Infiltrator will open in theaters on July 15.