Adam Sandler Will Write, Produce, And Star In Another Animated Movie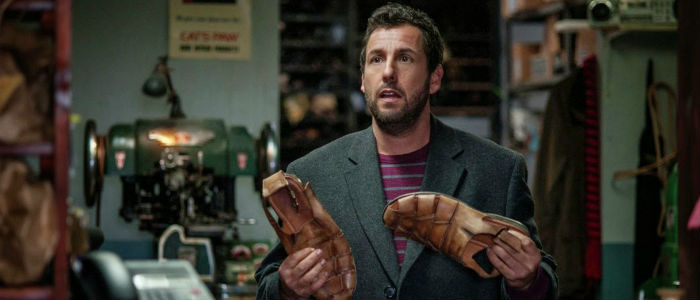 Adam Sandler's last two animated features, Hotel Transylvania and its sequel, made over $825M combined at the worldwide box-office. They're his two most financially successful films of the past decade. Sandler's Happy Maddison Productions, founded in 1999, weren't involved in the Hotel Transylvania pictures, but the actor and his production company are now working on a new animated feature for STX Entertainment.
Learn more about the Adam Sandler animated movie below.
Deadline reports Sandler will write and produce an untitled animated film, which he will also star in. There is some history between Sandler and STX Entertainment. As Deadline points out, he has made many films with the company's CEO, Robert Simonds. Simonds worked on some of the actor's more memorable titles–The Wedding Singer, The Waterboy, Happy Gilmore, Big Daddy, and Billy Maddison–as well as some of his lesser films, such as Bulletproof and Little Nicky.
Plot details are currently unknown, but in the press release, STX implied Sandler's project is aimed more towards kids. STX Entertainment Motion Picture Group chairman Adam Fogelson announced the deal:
As we continue to grow our company, the family arena is of critical importance to STX Entertainment and we are tremendously excited to have Adam Sandler and Happy Madison developing projects with us for the global animation market. Happy Madison is one of the most consistently successful and talented producers of family entertainment working in the business today. They have steadily been building this brand in this arena for years with the incredible success of the Hotel Transylvania animated franchise. Adam already has some wonderful ideas about what he wants to develop with us and we look forward to working with him, Allen Covert and the entire Happy Madison team.
STX president and chief content officer Oren Aviv said their partnership with Sandler "further defines STX as a home for the world's best storytellers," which is the sort of hyperbole expected with these announcements. The actor's last few co-writing efforts include The Ridiculous Six, Grown Ups 2, Jack and Jill, Bucky Larson: Born to be a Star, and, one comedy that's arguably superior to his recent output, You Don't Mess with the Zohan, which he co-wrote with Judd Apatow and Robert Smigel. Storytelling isn't precisely those comedies' forte, but more often than not, Sandler's films connect with his audience.
The actor will appear next in The Do-Over, which is available on Netflix this Friday. The action-comedy is Sandler's second film in his four-part movie deal with the streaming service. His first Netflix feature, The Ridiculous 6, is supposedly the streaming service's most-watched movie ever.