Does 'Finding Dory' Feature Pixar's First Lesbian Couple?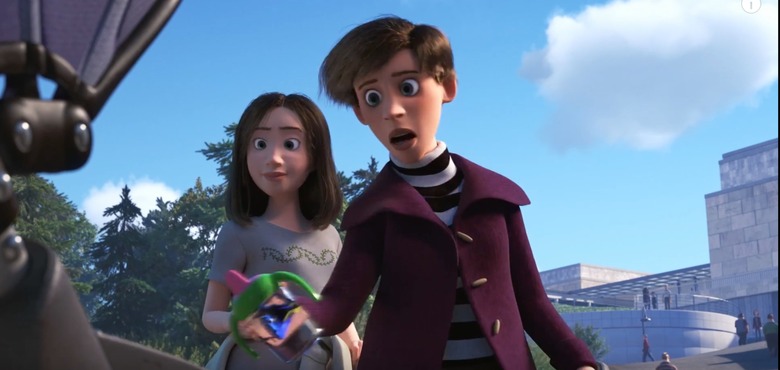 Disney has been known to be a very progressive company (having brought the first openly gay sitcom character to network television in 1997 on the Ellen show) but they have recently come under fire from GLADD for not featuring even one gay character in the 11 feature films they released last year. There is no denying it, there is a lack of representation of gay characters in Disney's big screen movies.
Fans recently petitioned the studio to give Elsa a girlfriend in Frozen 2, GLAAD called upon the studio to include LGBT characters in the Star Wars universe while the filmmakers and producers at Marvel have been very encouraging of the idea of bringing an openly gay character to the MCU. And while we might have to wait a bit longer to see an openly gay major character in one of those universes, I was happy to see what might be a lesbian couple in this morning's Finding Dory trailer.
Honestly, I almost didn't notice it (which should be the case — equal representation shouldn't be an in-your-face obvious thing that takes you out of the story, it should just feel natural) but Matthew Gottula who I follow on twitter pointed it out:
That new #FindingDory trailer released this morning? I think that's the first lesbian couple in a @DisneyPixar film. pic.twitter.com/S1wwJEOeWT

— Matthew Gottula 🏳️‍🌈 (@DLthings) May 24, 2016
You can watch the lesbian couple in Finding Dory right after the one minute mark in the trailer, embedded below:
Now first of all, we don't know for sure that this is a lesbian couple. Theres the possibility that the other woman might just be a friend of the mother who is visiting the Marine Life Institute with the mother/daughter duo. I have reached out to the studio and filmmakers for comment but haven't yet heard back.
Its also worth noting that this group of characters don't appear to play a major role in the movie, and very well might just play a part in the Octopus/Baby switch gag shown in the trailer — but again, its something.
Finding Dory voice actress Ellen DeGeneres has been openly gay for almost two decades at this point and has been a vocal advocate of gay rights and a leader in the gay community. And her work in this area has made a huge difference. Polls have shown that DeGeneres has influenced gay rights more than any other celebrity.
I'll leave you this very touching video that features artists and employees at Pixar relaying their personal stories for the It Gets Better campaign.