Comixology Launches Digital Comic Book Subscription Service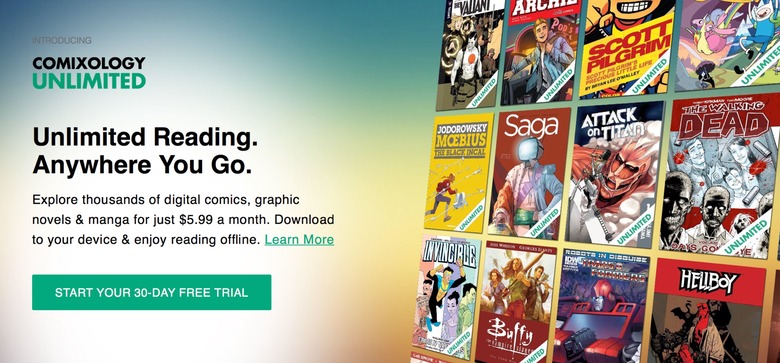 I have a love/hate relationship with Comixology. I love it because I can get all the comics I want without having to leave my home. I hate it because the amount of money I'm paying for comic book subscriptions have reached an all-time high. But today Comixology announced a new service called Comixology Unlimited that promises to be the Spotify or Netflix for comics (but we've heard that claim before). So what is this new digital comic book subscription service and why should or shouldn't you get it? Find out the details, after the jump.
Comixology Unlimited is offering a free 30-day trial, but after that it will cost you $5.99 a month to access over 100,000 comic books. But which books are included and which are not? If you're looking for Marvel or DC comic book series you will be disappointed. However, Marvel offers their own Marvel Unlimited service which offers most of their comic book series on a six month delay.
So at launch, Comixology Unlimited will only include selections from the mini-majors and other independent comic book publishers. ComicBookResources has a roundup of the big titles included:
Image Comics hits "Saga," "Lazarus," "Outcast," "Fatale," "Chew," "Sex Criminals," "Bitch Planet" and "The Wicked + The Divine"; licensed books from IDW including "Transformers," "My Little Pony," "Star Trek" and "G.I. Joe"; Dark Horse's continuation of Joss Whedon-created television series "Buffy the Vampire Slayer" and "Serenity"; standout series "Attack on Titan," "Lumberjanes," "Hip Hop Family Tree," "Locke & Key," "Scott Pilgrim," "Letter 44," "Princeless" and "Wuvable Oaf"; plus classics like "Hellboy," "Lone Wolf and Cub," "Love and Rockets" and "The Complete Peanuts." While some series, like Dark Horse's "B.P.R.D.," have upwards of a dozen issues available via the service at launch, and Archie fans can peruse dozens of classic issues, others, like "Saga" or "Outcast," are limited to their first story arc.
Now to be honest, Image Comics is my favorite comic book company, even over Marvel, because they consistently publish some of the best comic book stories that aren't just the same superheroes in tights stories. And a lot of the comic books listed above are amazing, including Saga, Sex Criminals, Letter 44 and Scott Pilgrim.
Apparently the service plans to cycle through the content being offered, much like Netflix does, with new and old series and issues being added but with no specific window announced yet. The lack of an announced criteria makes the service harder to clarify than the Marvel Unlimited service. This also means that this service can't really function as a replacement for those of you who subscribe to a bunch of these series, instead serving more as a service to discover new series – which is fine. I buy a lot of first issues to see if I'd be interested in jumping into a new series and maybe Comixology Unlimited will be worth it to me.
The good news is that the Comixology Unlimited service will be accessed through the same app you already have installed on your tablet, and that they are letting subscribers download up to 50 books to read offline, which should be enough for even the longest of plane flights or trips. This is also much more than Marvel Unlimited allowed when I tried them out a year or so ago.
You can sign up for your free 30-day trial not on the Comixology website.