'Mike And Dave Need Wedding Dates' Gets A Children's Book About Brothers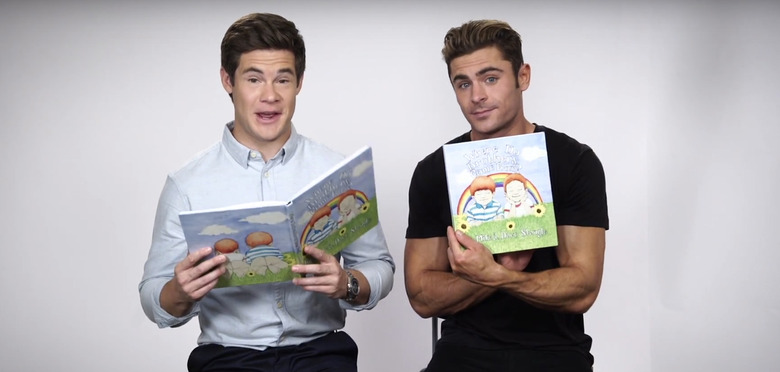 This summer has already gotten a big dose of comedy with Neighbors 2: Sorority Rising, a refreshing comedy sequel that mixes things up just enough to be on par with the hilarity of the first film. Plus, Popstar: Never Stop Never Stopping will deliver some huge laughs as the This Is Spinal Tap for the next generation. But there's still more R-rated comedy in store later this summer.
Mike and Dave Need Wedding Dates brings Neighbors star Zac Efron and Pitch Perfect Treblemaker Adam DeVine together as a couple of wild party guys who try to find some nice, polite girls in order to tone things down for their sister's wedding. But what they get instead are Anna Kendrick and Aubrey Plaza, their female equals in every way, pretending to play it sweet for a free trip to Hawaii.
The most recent red band trailer just debuted last week, and now Efron and DeVine have come together to read a "children's book" about brothers, because it's the made-up holiday of Brother's Day. Watch the Mike and Dave Need Wedding Dates Brothers Day video below.
Here's Zac Efron and Adam DeVine reading "Where Do Brothers Come From?":
There's some creepy illustrations in that book, which I'm actually surprised were created just for this video. It's not quite as funny as I hoped, which I suspect may be the problem with the movie when it hits theaters. While there are some laughs to be had in the trailers so far, it just feels like it's being raunchy for the sake of being raunchy without any cleverness. It's got the flare of Wedding Crashers but we don't see any of the heart yet. Maybe that will come when we see the actual movie though.
Jake Szymanski is making his directorial debut with a script from Neighbors scribes Andrew Jay Cohen and Brendan O'Brien, so we'll see if this is the start of a promising big screen career for the man who directed HBO's tennis mockumentary 7 Days in Hell.
If you missed it last week, watch the new red band trailer for Mike and Dave Need Wedding Dates right here.
Hard-partying brothers Mike (Adam Devine) and Dave (Zac Efron) place an online ad to find the perfect dates (Anna Kendrick, Aubrey Plaza) for their sister's Hawaiian wedding. Hoping for a wild getaway, the boys instead find themselves outsmarted and out-partied by the uncontrollable duo.
Mike and Dave Need Wedding Dates arrives on July 18 this summer.