John Belushi Documentary In The Works At Showtime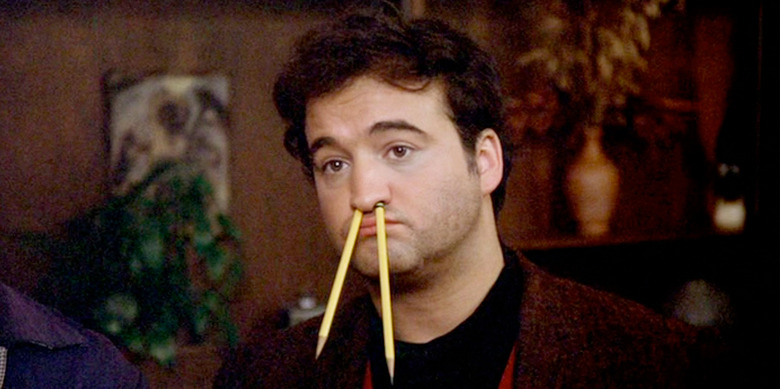 We may receive a commission on purchases made from links.
After tackling entertainment icon Marlon Brando with last year's documentary Listen to Me Marlon, filmmakers R.J. Cutler (The September Issue) and John Battsek (Searching for Sugar Man) have reunited for a new documentary about one of comedy's most revered names: John Belushi.
John Belushi was a comedy legend who skyrocketed to fame and sadly left this world all too soon. Now his life story and carer will be chronicled with a feature length documentary that has the full cooperation of Belushi's widow, Judisth Belushi Pisano. Find out more about the John Belushi documentary after the jump.
Deadline reveals that Cutler will direct while Battsek will produce the film that starts production in the fall. Also on board is Sean Daniel, a longtime Belushi collaborator, and Bill Couturie as executive producer. So why is the time now? Well, the film has actually be in the works for awhile. Judith Belushi Pisano explains:
"John Battsek and I have been discussing the possibility of making this film for over a decade. I'm thrilled to finally embark upon that journey together with him and director RJ Cutler. Passion Pictures is poised to make the definitive documentary on John Belushi – a man who not only had a profound effect on the comedy landscape of America, but also made an indelible mark on the social fabric of his time which continues to reverberate today."
Battsek echoes her sentiments when he says:
"This is a film I have wanted to make for many years as John was a great hero of mine. Having Judy cooperation for the first time on a feature documentary of his life is very special and means we know we will be making a truly authentic film. We plan to assemble a deep and three-dimensional look into the life of a man of great complexity and talent who went on to become an American comedic icon."
Belushi's story is one that is simultaneously inspiring and tragic. We're talking about a guy who was always the life of the party becoming one of the most famous faces in the world in a relatively short period of time. Can you imagine the pressure of having the #1 movie (National Lampoon's Animal House), #1 TV show (Saturday Night Live) and #1 album ("Briefcase Full of Blues"), all at the same time? That sounds incredible and terrifying all at once.
Belushi's biography from 2012 that had the cooperation of Judith Belushi Pisano has been one of my favorite biography reads, especially with all the personal photos from Pisano and friends including Bill Murray, Dan Aykroyd, Harold Ramis, Robin Williams, Lorne Michaels, Chevy Chase, Christopher Guest. It's a shame a couple of those names are now gone and won't be able to provide insight into Belushi's life. Williams was one of the last people to see Belushi alive, and the two comedians struggled with many of the same problems. It's a shame he's no longer around to provide more about Belushi's life. But hopefully those surviving will get interviewed for the documentary.
RJ Cutler adds, "Belushi was one of my very first heroes. At a time when film, television, and music were undergoing tectonic shifts within American culture, he was at the center of it all." This will probably be a bittersweet look at the iconic comedian, but I can't wait to watch it.
There was also a John Belushi biopic in the works at one point with Emile Hirsch playing the comedian, but it's been a few years since we heard anything about that project, so it might not be happening anymore.