'Finding Dory' Trailer: Meet The Younger Version Of The Forgetful Fish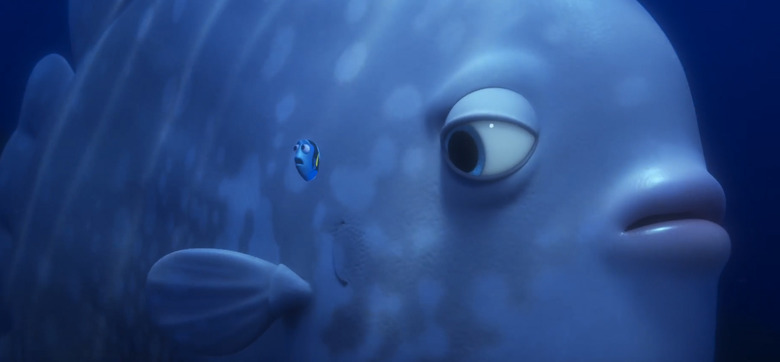 This summer brings Finding Dory to theaters, the sequel to Pixar Animation's hit film Finding Nemo from 13 years ago. The story follows Dory (voiced by Ellen DeGeneres) as she sets out to find her family. And as the new Finding Dory trailer illustrates, she lost them a long time ago, when she was a much younger fish. There's also the introduction of the marine life institute that Dory gets arrives at when some divers find her caught in those pesky, plastic pop can rings. At the institute she meets a whole array of new colorful underwater friends who might be able to help her out.
Watch the new Finding Dory trailer after the jump.
Frankly, I haven't been particularly excited about Finding Dory. Of all the sequels Pixar could have done, a follow-up to Finding Nemo wasn't really at the top of my list. In addition, I wasn't entirely convinced that Dory would work as a lead character, though the trailers did make me think this little adventure for Dory to find her parents could be just as good as her first time out with Marlin. Though the absence of Albert Brooks through most of these proceedings worried me, there's plenty of him on display here.
This latest trailer is the best one yet, in my opinion. Starting with young Dory looking for her folks really pulls at your heartstrings a bit. Plus, it's always nice to hear Bill Hader's voice popping up in an animated movie. But the most exciting thing for me is all the new characters that will come from the marine life institute that Dory ends up in. Plus, those sea lions are absolute riot.
Our own Peter Sciretta learned a lot about Pixar when he visited the animation studios earlier this year. This includes the real life inspiration for characters in the movie, how the movie is about Dory overcoming her disability, why director Andrew Stanton thought this sequel was necessary, how technology has made it harder to produce Finding Dory, and how Dory almost wasn't even in Finding Nemo. If you want to see more from Finding Dory, check out the previous trailer right here.
Andrew Stanton directs Finding Dory, which also brings back Albert Brooks as Marlin. Kaitlin Olson plays Destiny the whale shark, Ty Burrell is Bailey the beluga whale, Ed O'Neill is Hank the octopus, and Diane Keaton and Eugene Levy are Dory's parents Jenny and Charlie.
Disney•Pixar's "Finding Dory" reunites everyone's favorite forgetful blue tang, Dory, with her friends Nemo and Marlin on a search for answers about her past. What can she remember? Who are her parents? And where did she learn to speak Whale?
Finding Dory splashes into theaters June 17.