'Sausage Party' TV Spot: Seth Rogen Spoofs Walt Disney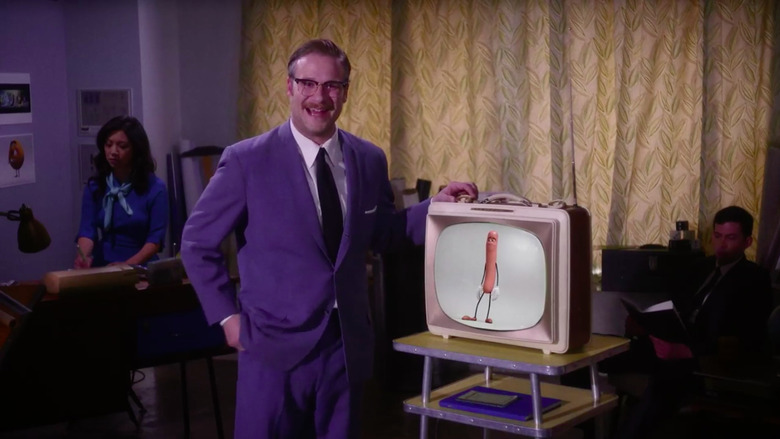 During Sunday night's premiere of Preacher, a new TV spot for Sausage Party aired. Continuing to play up the R-rated spin on familiar animated movies, Rogen makes an appearance, in the spirit of Walt Disney, to introduce his latest creation, Frank (voiced by Rogen). With horn-rimmed glasses, an old-fashioned suit, and a retro setting, the co-writer, producer, and voice actor shows off his "Animation Imaginatorium."
Below, watch the Sausage Party Walt Disney spoof.
Sausage Party, in addition to Rogen, features the voices of Kristen Wiig, Paul Rudd, Nick Kroll, Jonah Hill, James Franco, Edward Norton, Michael Cera, Bill Hader, Danny McBride, Salma Hayek, Craig Robinson, and more. Directed by Greg Tiernan (Thomas & Friends) and Conrad Vernon (Shrek 2), the animated feature opens in theaters this summer.
Here's the latest look at Sausage Party (source: Twitter):
My Animation Imaginatorium has cooked up up a new movie called "Sausage Party". Check it out: https://t.co/IvgfPHwWLT

— Seth Rogen (@Sethrogen) May 23, 2016
The TV spot is a fun and harmless spoof of Walt Disney. Even if Rogen's old-timey voice isn't consistent in the TV spot, that only makes the commercial funnier. He comes across as more of a huckster than a charmer, as Walt Disney was in his famous advertisements:
Sausage Party premiered over two months at South by Southwest. A work-in-progress cut was shown but the incomplete parts of the film didn't seem to hinder anyone's enjoyment. Our own Jacob Hall was lucky enough to see Sausage Party, and he made it sound like far more than a one-joke comedy:
While Sausage Party is chock-full of profane language and surprisingly brutal depictions of violence against food, it's the religious element that somehow feels the most shocking. Here is a film starring a talking hot dog that is actually about how organized religion pulls the wool over the eyes of the masses. Between this and their television adaptation of Preacher, Rogen and Goldberg have seemingly become the go-to guys for using dick jokes to poke holes in the very concept of belief. It's rare to see any major American film go out of its way to tear down religious institutions and, Sausage Party wants to burn it all to the ground. Prepare for think pieces.
A deconstruction of organized religion is probably not what most audiences are expecting from Sausage Party, but after the premiere of Preacher, it's again apparent Rogen and Goldberg have a talent for injecting a surprising amount of thoughtfulness into crass or silly scenarios. Even if Sausage Party adds up to little more than dirty food-related humor, at least it's only 83 minutes long–a refreshingly short runtime for a summer movie, animated or not.
Sausage Party opens in theaters August 12th.