Star Wars Bits: Ciena Ree Revealed In New Art, New Star Wars Celebration Pins, And The Future Of Star Wars: Battlefront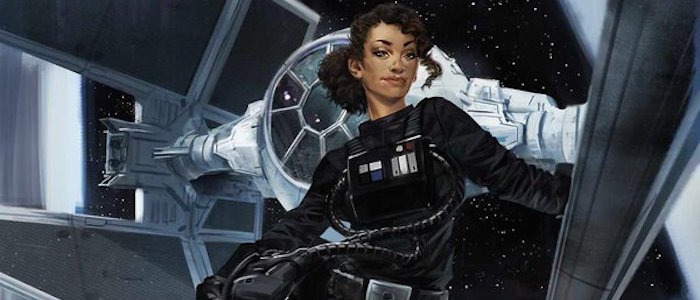 In today's edition of Star Wars Bits:
Our first official look at Ciena Ree, the main character from Lost Stars.
Christopher McQuarrie pitches a Star Wars movie.
Mark Hamill shares a few interesting stories on Twitter.
New art re-imagines Yoda as a Sith Lord.
Star Wars: Aftermath is currently dirt cheap.
The guys behind Roxy the Rancor are back with a new creation.
New Star Wars Celebration pins have been revealed.
Star Wars: Battlefront sequels will feature single player.
New footage from LEGO Star Wars: The Force Awakens has arrived.
As seen on The #StarWarsShow, the first official image of Ciena Ree from @ClaudiaGray's Lost Stars, for @FFGames! pic.twitter.com/Zw4vI60x7D

— Star Wars (@starwars) May 18, 2016
Imperial pilot Ciena Ree was introduced in the pages of Claudia Gray's novel Lost Stars and now we know exactly what she looks like. The character's likeness was put to paper for an upcoming expansion of Fantasy Flight Games' fantastic Star Wars: Armada miniatures game, where she will be a featured character. This particular piece of art implies that she will be piloting a TIE Interceptor in the game, although Lost Stars does she her taking command of a Star Destroyer at one point.
If you're not following Jack Reacher and Mission: Impossible – Rogue Nation director Christopher McQuarrie on Twitter, should should change that. He's one of the most consistently interesting working filmmakers on social media, sharing useful writing tips, fun anecdotes, and occasionally just spitballing terrific ideas in full public view. Case in point: McQuarrie responded to a question about when he'd around to making a Star Wars movie by suggesting a Lando Calrissian solo adventure starring Michael B. Jordan. That's almost as great at Guillermo del Toro's "Jabba the Hutt rises to power" pitch from a little while back.
Last time I saw original trilogy was Special Editions on big-screen in '97 w/ my kids-Never seen them on home video https://t.co/hUWkGjCsT1

— Mark Hamill (@MarkHamill) May 19, 2016
Each as they were released in theaters- Again, never on home video. https://t.co/J07rzCRBCu

— Mark Hamill (@MarkHamill) May 19, 2016
You'd think that the actor behind the main character in the original Star Wars trilogy would have seen the movies more than anyone else, but Mark Hamill recently admitted that he hasn't watched the movies since the special editions were released in 1997...and that he's only ever seen them in theaters. In retrospect, this actually doesn't feel too surprising – would you like to continuously rematch a movie starring you? In any case, maybe Hamill is on to something here. Absence does make the heart grow fonder.
It was my head protruding through an opening in the set floor as I stood below-My prop head was tested but rejected. https://t.co/10mUunERWB

— Mark Hamill (@MarkHamill) May 22, 2016
While we're sharing Mark Hamill sharing stories on social media, here he is explaining exactly how they managed to get his face inside Darth Vader's severed helmet during his vision on Dagobah. Spoiler alert: he put his head through a hole in the floor. Movie magic!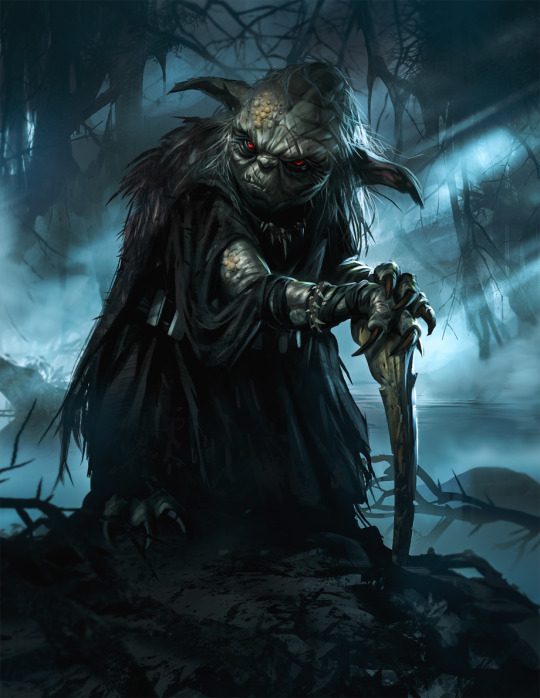 If you've ever wondered what Yoda would look like it he decided to forget about the whole light side of the Force thing and go full-on Sith Lord, artist Daryl Mandryk has got you covered.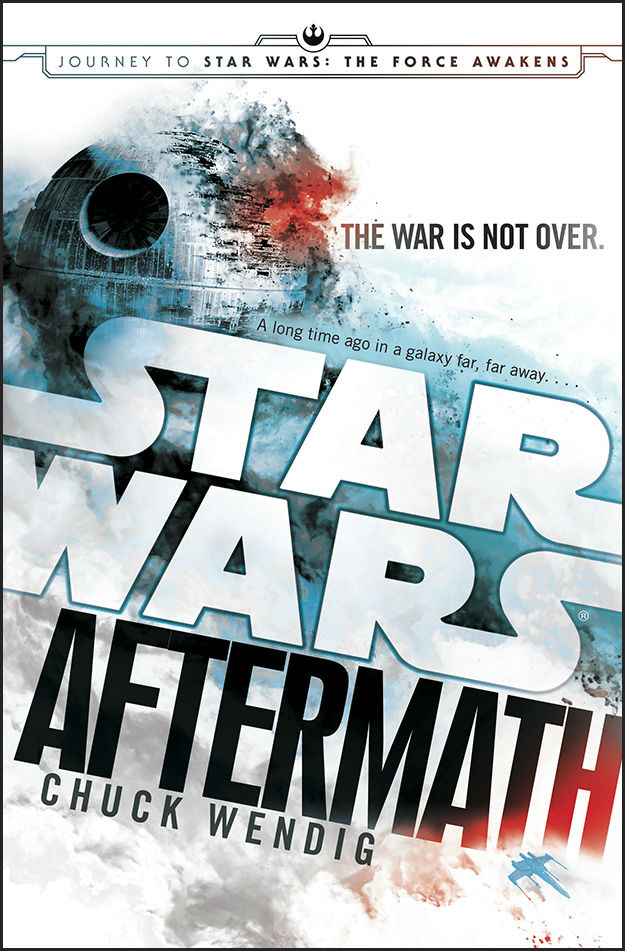 The eBook version of Chuck Wendig's Star Wars: Aftermath novel is currently marked down to $1.99 on Amazon, iBook, and Kobo. This sale, which surely exists to promote the upcoming sequel, Star Wars: Aftermath – Life Debt, won't last long, so act fast if you want to give it a read.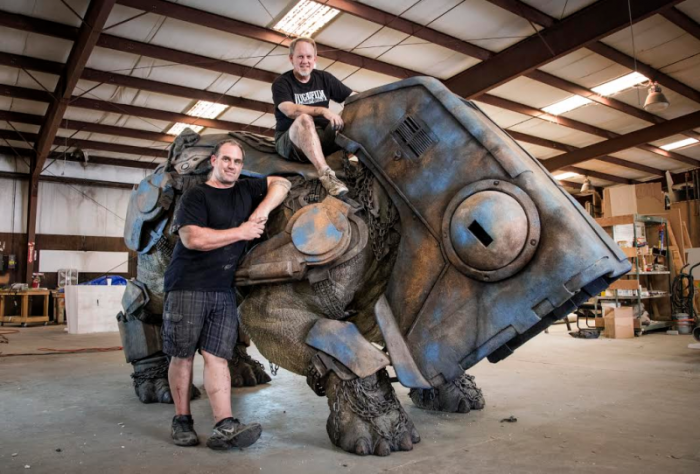 Rick Bohler and Erik Hollander are best known for creating Roxy the Rancor, the massive recreation of the beast lurking under Jabba's palace that has been seen at conventions around the United States. Now, the duo is back with another impressive recreation of a Star Wars beast: the Luggabeast from The Force Awakens. Their reasoning for building this guy is actually pretty cool – they figured the countless Rey cosplayers would love to have their picture taken as they recreate the scene where she first meets and rescues BB-8. io9 has a whole bunch of pictures, including additional details about who it was constructed:
To construct the Luggabeast, the team used "EPS sculpting foam, select woods, fiberglass, PVC, miscellaneous fabrics, steel, tons of found items—and lots of love, time and patience."
They constructed a wooden frame, on which they mounted the sculpting foam and detailed parts. The beast's texture was then sculpted from the foam. The entire build took 320 hours of sculpting, preparation and construction, with an additional 160 hours of painting.
The prop is deceptively light. Since it's built mostly of foam, it weighs only 450 lbs. It stands 8 feet tall, 13 feet long and is 6 feet wide.
The first four pins that will be available for trade and purchase at this year's Star Wars Celebration have been revealed and they're adorable. Emoji versions of Rey, Finn, Poe, and Kylo Ren are only the first of forty pins that will be around for fans to collect. You can head over to the official Celebration site to get a preview of who is waiting in the wings.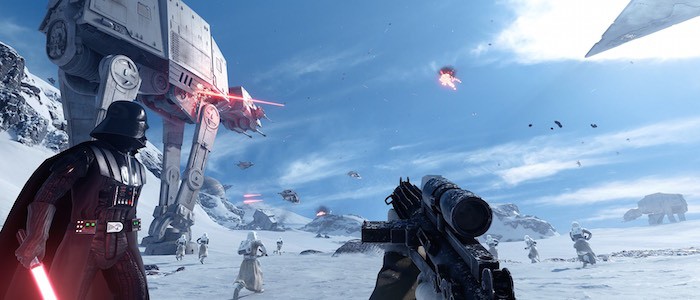 Despite selling extremely well and earning mostly positive reviews from critics and gamers alike, Star Wars: Battlefront was criticized for its lack of single player. If you weren't playing online multiplayer, you weren't playing at all. Now, EA's executive vice president Patrick Soderlund has admitted that this is a problem and that they plan to address it in the upcoming sequel:
Star Wars, I think is a game where you have to look at it from a slightly different perspective. Yes, we know that the one thing that we got criticized for was the lack of a single player campaign in it. It was a conscious decision that we made due to time, and being able to launch the game side by side with [Star Wars: The Force Awakens] to get the strongest possible impact. Are we happy with the 75 Metacritic rating? No. Is that something that we're going to cure going forward? Absolutely.
I appreciate the brutal honesty of this statement. Video game development schedules are hell even when you aren't trying to coincide your launch with the release of a major motion picture. Soderlund elaborated on the importance of a single player mode going forward:
In regards to the depth and breadth question, what we learned over the years, is that certain games and certain genres have different requirements for depth and breadth if you want to reach the maximum audience. The shooter category as an example, we know to be true that in order for a game to truly break out and become really large, you most likely need both a single player campaign where the player can get familiar with the game and practice playing the game, to then hop on and play online.
In all honesty, the lack of single player is what kept me from fully committing to Star Wars: Battlefront as I'm not the best gamer in the world and found myself getting ruthlessly slaughtered in every multiplayer match. So this is a good first step in convincing me to try the sequel.
While we're on the subject of Star Wars video games, a new clip featuring footage from LEGO Star Wars: The Force Awakens has arrived, focusing on the one and only Poe Dameron. This footage showcases what we've come to expect from LEGO's video games thus far – a colorful visual style, a cheeky sense of humor, and a variety of gameplay options.