Cool Stuff: Gallery 1988 Will Release A New 'Preacher' Poster After Each New Episode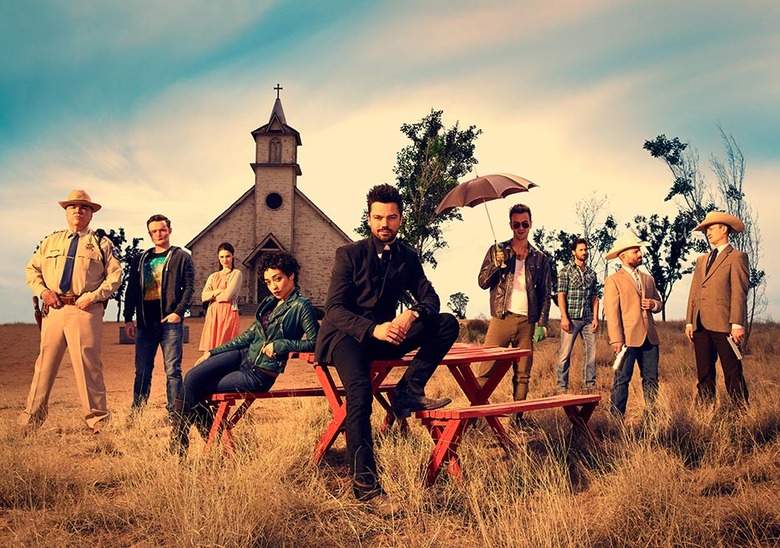 Last night, Seth Rogen, Evan Goldberg, and showrunner Sam Catlin pulled off what was once considered impossible to some filmmakers: they successfully adapted Garth Ennis and Steve Dillon's Preacher. Rogen, Goldberg, and Catlin ground the often wacky and wild story without excluding Ennis' dark sense of humor or the spirit of the characters. The pilot retains some of the series' key elements while also taking the story in a slightly different–and arguably more somber–direction.
To celebrate AMC's adaptation, Gallery 1988 will release a new Preacher poster following all of the first season's 10 episodes. Check out their first Preacher poster below.
Artist Dave Quiggle worked on the first print for Preacher. The poster, which there are only 100 copies of, is currently available for $35 at PreacherPrints. Quiggle worked with Goldberg, Rogen, and others on selecting some of the pilot's imagery to incorporate into his design. If you watched the premiere last night, then you should recognize some of the distinct images–Tulip (Ruth Negga) in a knife fight, for example–in this Preacher poster: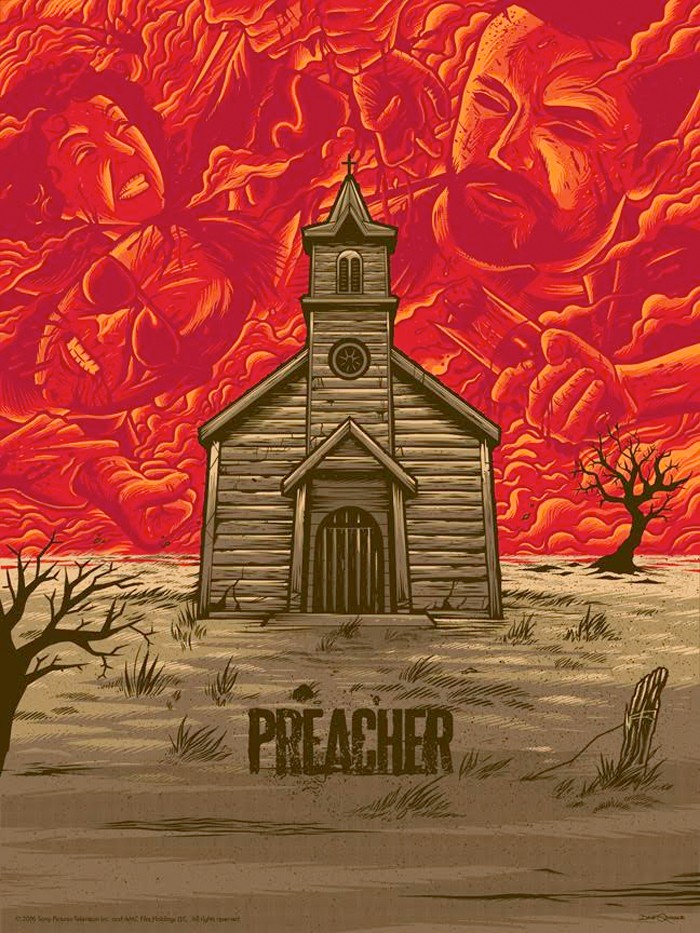 Gallery1988 unveiled the poster and official announcement on its Tumblr page:
We are so happy to debut our partnership with Sony, AMC and the team behind the highly anticipated new TV show, Preacher. For the past 4 months, we've been working with executive producers Seth Rogen & Evan Goldberg, along with the writers of the show, to hand select their favorite scenes and imagery from upcoming episodes, then employ some of our favorite G1988 artists to create screenprints inspired by those specific script pages. In many of the cases, the scenes hadn't even been filmed yet, creating a very unique, and unprecedented, collaboration.
Immediately after each new episode at 11 p.m. ET/8 p.m. PT, a new print will debut. Quiggle's print focuses more on the pilot's violence, not so much its sense of humor or often melancholy tone. Tonally, Preacher is a strange beast, and it's remarkable how Rogen, Goldberg, and Catlin bring all these conflicting tones together with little trouble. One minute they have you laughing, the next minute they have you genuinely empathizing with Jesse Custer's (Dominic Cooper) dilemma of trying to be better a man, a better preacher.
The pilot sets up a few storylines and characters that might bewilder folks unfamiliar with the comic book series. The first episode invests more time into the characters than the mystery, which might've frustrated some viewers last night. Maybe the three wildly charismatic leads–including Cassidy (Joseph Gilgun), an utter delight–will keep non-Preacher fans coming back for more, curious to see what sort of journey Catlin, Goldberg, and Rogen have in store for them.
The next episode of Preacher airs on June 5th.