'The Do-Over' Trailer: Adam Sandler Is Kind Of A Badass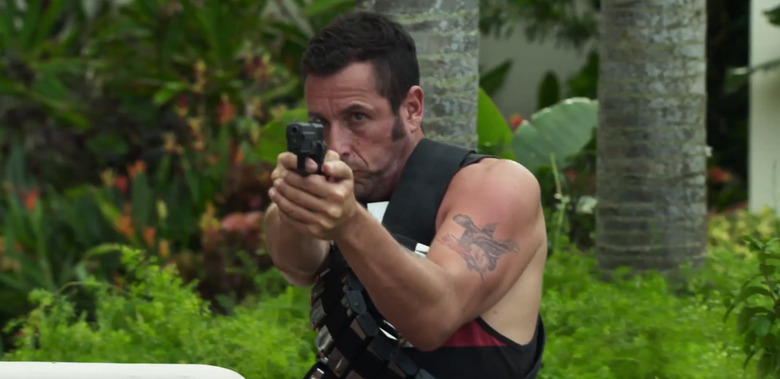 Continuing the deal for Adam Sandler to make movies exclusively for Netflix, a new R-rated action comedy is coming to the streaming service this weekend. The Do-Over reunites Sandler with his Saturday Night Live buddy David Spade in a movie that feels straight out of the 1990s. Adam Sandler plays a bit of a badass who decides to help his old high school friend (Spade) out by fixing his boring life. The only problem is he does that by faking their deaths and giving them new identities that get them into some serious trouble.
Watch The Do-Over red band trailer after the jump.
Here's the final trailer for The Do-Over straight from Netflix:
Honestly, this doesn't look half-bad. Sure, it's still generic as hell and not the funniest looking comedy this summer, but it looks infinitely better than the rest of the junk Sandler has been turning into movies over the past decade. The throwback nature of the action and story actually gives it a little charm.
In this new trailer, Kathryn Hahn shows up to threaten Spade and Sandler, and her presence always demands my attention. Plus it's hard to go wrong with Paula Patton in the female lead role. Plus Luis Guzman, Michal Chiklis and Sean Astin will be appearing along with Catherine Bell (Bruce Almighty), Natasha Leggero (Neighbors), Nick Swardson (Just Go With It), Torsten Voges (Funny People), Renee Taylor (The Producers) and Matt Walsh (Ted). Maybe this will turn out to be good?
The only downside is that this movie is directed by Steven Brill, who directed Sandler's lesser comedy fare Little Nicky and Mr. Deeds, both comedies that marked the beginning of the actor's fall from comedy grace.
If you want to see more from The Do-Over, watch the previous red band trailer right here.
In The Do-Over, Adam Sandler plays "Max" and David Spade plays "Charlie," old friends tired of their mundane lives who reunite at their 25th high school reunion for the ultimate mulligan: they decide to wipe the slate clean for a do-over. After faking their deaths and assuming new identities, could their lives be better the second time around?
The Do-Over hits Netflix exclusively beginning on May 27, but it'll face some pretty stiff weekend competition with X-Men: Apocalypse hitting theaters. It should be a good escape for anyone who doesn't want to leave their house for Memorial Day though.