'Beauty And The Beast' Teaser Trailer: Emma Watson Is Belle In Disney's Live-Action Retelling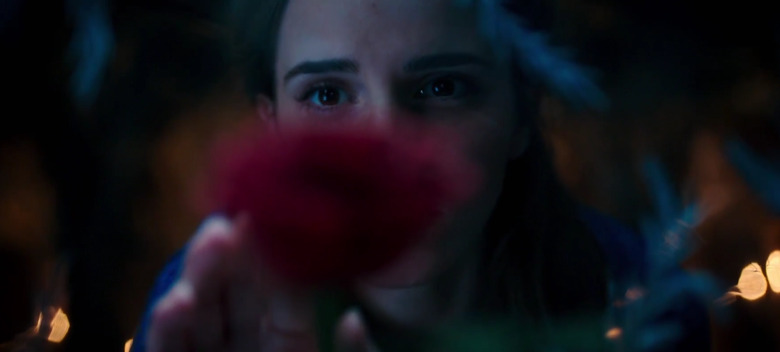 Disney has been raking in box office dollars with The Jungle Book this year, and they're bound to have the same kind of success when their live-action retelling of the classic fairytale Beauty and the Beast arrives next spring.
Harry Potter franchise star Emma Watson stars in the movie as Belle while Dan Stevens takes the role of the prince turned into a beast and the first Beauty and the Beast teaser trailer has just arrived. It doesn't really show much as far as footage from the film is concerned, but it does show some of the beautiful settings. Watch it below.
Here's the Beauty and the Beast teaser trailer from Disney:
Most of the teaser trailer just shows off the Beast's castle before we see the portrait of the price get slashed by his claws. But then the door to the castle opens just enough for us to see who is supposed to be Belle, even though we don't see Emma Watson's face in the wide shots. At least we get to hear Ewan McGregor as Lumiere and Ian McKellen as Cogsworth, and I can't wait to hear them sing in the actual movie.
Finally, we get the shot of the signature magical rose that is counting down the days that the Beast has to fine true love before the curse placed upon his castle lasts forever. And peering over it is Belle, who has no idea what's in store for her.
The rest of the cast in Disney's live-action remake includes Luke Evans as Gaston, Josh Gad as LeFou, Kevin Kline as Maurice (Belle's father), Emma Thompson as Mrs. Potts, Gugu Mbatha-Raw as Plumette, the feather duster and Stanley Tucci as a grand piano named Cadenza. That's a hell of a line-up, but I wouldn't expect anything less after seeing who Disney rounded up for The Jungle Book.
Bill Condon is directing Beauty and the Beast from a script by Stephen Chbosky (The Perks of Being a Wallflower), and the film will be produced by Mandeville Films' David Hoberman and Todd Lieberman. Oscar winner Alan Menken, who won two Academy Awards for the original 1991 animated adaptation, has written three new songs for the production with Sir Tim Rice, who worked on the music for The Lion King with Elton John.Beauty and the Beast arrives on March 17, 2017.