'Preacher' Review: A Devilish Classic Is Reinvented With Heavenly Results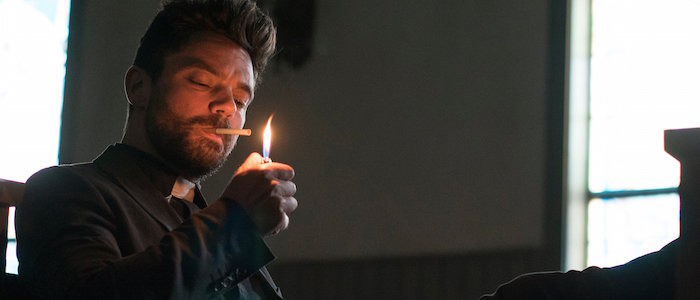 Preacher is a very different beast than the Vertigo comic book series it is based on and for many fans, this will be a difficult hurdle to leap. But everyone else can just jump right in and enjoy the blasphemy, irreverent comedy and the hilariously excessive violence, because the first chapter of AMC's new series is a triumph. This is the kind of pilot episode that arrives feeling fully formed and confident. Preacher knows what it is, lays all of its cards on the table in the first five minutes, and asks you to come along for the ride with a wicked gleam in its eye. From the look of things, this will be a ride worth taking.
Read the full Preacher review after the jump.
Garth Ennis and Steve Dillon's original comic is one of the most controversial and entertaining series to emerge from the '90s, a blackly comic ode to bad taste that went out of its way to track down every sacred cow before gleefully slaughtering it. For the television adaptation, series creators Seth Rogen, Evan Goldberg, and Sam Catlin have eased up on the comic's grotesque anarchy in favor of something more patient and measured. This is still recognizably Preacher, but it's Preacher with the foot taken off the gas pedal. While the comic was happy to speed toward oblivion, two middle fingers raised high in the sky, the TV show isn't in a hurry. It wants to amble. It wants to take in the sights. Hell, that's appropriate for a show that's about as Texan as high school football and barbecue.
Plot differences aside, the Texas of AMC's Preacher shares a great deal in common with the Texas that Ennis and Dillon dreamed up. This isn't quite reality, but it's not quite a cartoon landscape either. There's a very careful balancing act going on here. This is the American southwest reinvented by an Irish comic book writer who watched a lot of Hollywood movies and then filtered through a slightly more sensible American lens. The result is a world that obeys most of our rules while also allowing for anything to happen. It's a world where everything is just slightly off. It's a world where you can care about a small town minister's crisis of faith and not bat an eye when a vampire saddles up next to him at the local watering hole.
This oddball landscape is home (or temporary home) to three characters who make instant impressions. There's Reverend Jesse Custer (Dominic Cooper), the preacher of the title who has returned home to Annville, Texas' to run the local church after abandoning a life of...not doing good things. His monotonous existence, fueled by cigarettes and booze and increasingly irritated one-sided conversations with the almighty, is interrupted by the arrival of Tulip (Ruth Negga, who makes one hell of an entrance), Jesse's ex-girlfriend and highly proficient outlaw. That's before you get to Cassidy (Joseph Gilgun), the friendly Irish vampire who finds himself in town after exiting an airplane a little too early.
Preacher introduces these seemingly disparate characters from seemingly different genres, as well as an entire town's worth of oddball supporting players, and slowly pulls them together. Yes, Preacher is a drama about a man wrestling with his faith, but it's also a vicious dark comedy, a horror story and a crime tale. And as the opening scene (which is literally set in outer space) suggests, there is plenty of fantasy yet to come. After all, some kind of mystical force is hopping around the world, possessing religious leaders and...well, you'll just have to watch the show.
This sounds like a kitchen sink story if there ever was one, but it somehow all comes together with surprising elegance. Rogen and Goldberg, directing Catlin's script, utilize the devil-may-care nuttiness they have used to great effect in their feature film work to juggle every element. This blend of genres, with unruly comedy comfortably sitting side-by-side with monsters and mayhem and bonebreaking action, was previously glimpsed in This is the End, the duo's 2013 comic gem. But while that film was scrappy and rough-around-the-edges, their work in Preacher is more polished and reserved.
This is a show with an eye for location, taking advantage of stark landscapes and deteriorating small town architecture to paint a convincing portrait of a very specific, if off-kilter, place. This is an odd thing to say about a show as preposterous and deliberately offensive as Preacher, but this is their most mature work as filmmakers so far. With this tricky tone and visually arresting look established, Catlin has a bleak and wicked playground to tell all kinds of stories going forward. Since he's a Breaking Bad veteran, he knows a thing or two about that.
As a longtime fan of the original comic, it would be easy to cross my arms and get irritated by how little the plot of this pilot resembles the plot Ennis and Dillon originally cooked up. Instead, it's easier to focus on the fact that everything about this series works. Cooper is a fine leading man, stoic and forthright and cynical in that charming way that natural born movie stars can pull off. Negga and Gilgun are just a hoot, having a great time with their outrageous characters. The rest of the supporting cast is easy to love or hate. The violence, which often arrives suddenly and with terrific amounts of splatter, would make Sam Raimi proud.
Like its source material, Preacher is at war with its own setting, taking characters who are uniquely Texan and pitting them against the worst aspects of their own culture. It's no accident that Jesse Custer finds himself squaring off with a group of men dressed as Confederate soldiers for a Civil War re-enactment. Texas, like Preacher itself, is a weird place full of contradictions. There is no better setting for a story this unhinged. This is the most promising television pilot to arrive in ages.